Ness aims to impress McCoist
Jamie Ness hopes to put his injury nightmare behind him and become a key man under Ally McCoist.
Last Updated: 19/05/11 7:05pm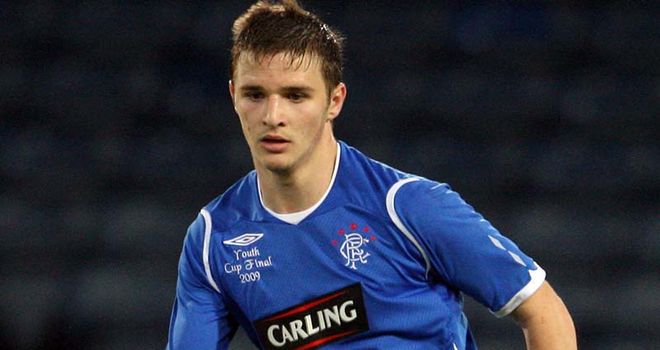 Rangers youngster Jamie Ness hopes to put his injury nightmare behind him and become a key man under Ally McCoist.
The 20-year-old has endured groin problems this season and underwent a hernia operation last summer.
His recent spell out of action meant he was forced to look on as Rangers said goodbye to Walter Smith in style, winning 5-1 at Kilmarnock on Sunday to clinch the league title.
And despite being thrilled to earn 13 first-team appearances this season, the midfielder is keen to play an even bigger role next term.
"For me personally, it has been an up-and-down season to say the least," he said.
"To come in the team and play nine games in a row was great for me. I didn't really expect that to happen.
Disappointing
"Then to get the injury at the end of the season and to miss out on the title run-in was really disappointing for me.
"Having to sit and watch and not really feel part of it was quite hard. But it was great to see the lads win the league.
"Any footballer would rather be playing than sitting and watching so hopefully next season I'll be able to play more of a part.
"I had a bad season the year before with injury as well so I was hoping to try to get over that and get a few games in the first team.
"I didn't expect to come in and play as much as I did. I enjoyed every minute and I'm hoping for more next season."
Former assistant boss McCoist has replaced Smith at the helm and Ness hopes the sense of familiarity surrounding the new management will help the current crop of players force their way into his plans.
"He knows everyone really well and he will have his ideas about what players he wants to keep and who can be let go," said the youngster.
No overhaul
"It does help because it means there won't be as big an overhaul with a new manager coming in.
"But players will still want to prove themselves to him and hopefully most of us will be able to do that.
"All the boys know him, he has been here as long as I've been here. Everybody gets on really well with him and I think he will be a great manager for us."