Wilson issues rally call
Mark Wilson insists Celtic must hit the ground running next season.
Last Updated: 11/06/11 7:22pm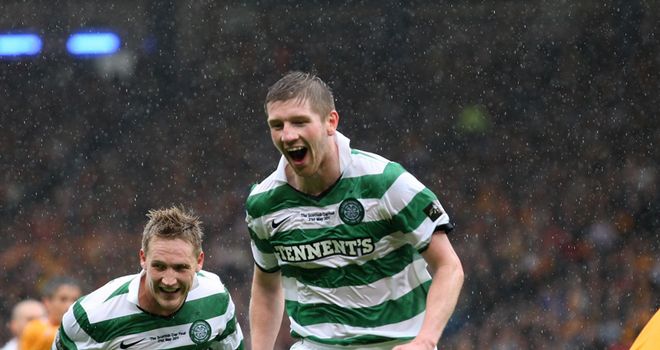 Mark Wilson knows Celtic must hit the ground running next season if they want to succeed at home and abroad.
The Hoops have Europa League qualifiers to contend with, as well as an early start to the Clydesdale Bank Premier League campaign this year.
And Wilson hopes their pre-season trip to Australia will ensure Celtic are in top form to make an impact in Europe and contest Rangers for the title in the season ahead.
He said on his club's official website: "At other clubs you want to get off to a flying start but it's not as important as it is at Celtic, where you have to hit the ground running, win your first game and go on a run from the first minute.
"At other teams, you might get away with losing or drawing the first few and make up for it in the season. We have to start fast and win every game we possibly can.
"The pre-season is one of the most important parts of the season as it gets you ready for a long year ahead.
"You really have got to choose the right place to go and the manger and the coaching staff feel Australia is the right place for us to go to prepare for what is going to be a really important season."
Celtic will spend more than two weeks in Australia, where they will face A-League sides Central Coast Mariners, Perth Glory and Melbourne Victory over the space of 11 days.
Test
Wilson said: "It will be a good test. In pre-season, the games will always be difficult for us because it's very hard getting back into it. That's always been the case.
"It will be a very good test and well worthwhile going out there, with the Europa League qualifiers which will be coming up."
The right-back added: "I thought America last year was great as we had a few new boys in and a few younger lads made the step up.
"We went away for nearly two weeks and it really brought the team together.
"This time, there will be one or two new signings again and we will be away for two-and a half weeks, so it's great and gets the boys together, although at the end you feel you are in each other's faces all the time.
"But I think you need that to get to know each other's game and also to get to know each other personally as well."
Wilson believes the trip will also help new signings Kelvin Wilson and Adam Matthews, as well as last year's recruits, appreciate the worldwide appeal of the Hoops.
He said: "It's a good chance for the fans out that way to see us as they don't often get a chance to see us, apart from TV.
"I have been fortunate enough to see so many places and the affect the club has on people in the far reaches of the world and how we always seem to have a massive fan base everywhere.
"But the boys who have just joined, or joined us last summer, might not quite realise how big we are in these far flung parts.
"In Australia there are a lot of Scottish and Irish people so there will be a big following. It will be good for these boys to see how big we are."