Lennon - Don't spoil it
Celtic boss Neil Lennon has urged his side not to 'spoil' their current run of form which has taken them 20 points clear at the top of the SPL.
Last Updated: 23/02/12 10:50am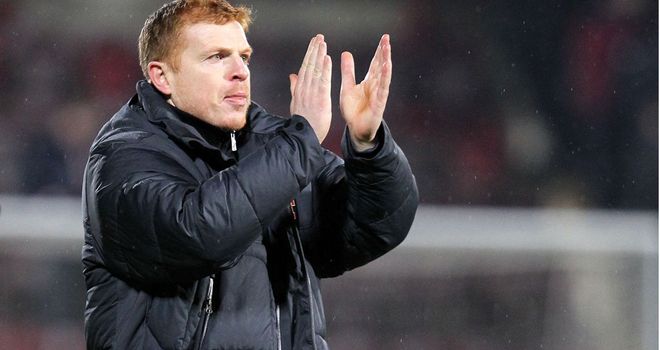 Celtic boss Neil Lennon has urged his side not to 'spoil' their current run of form which has taken them 20 points clear at the top of the SPL.
Lennon was talking after the Bhoys' 2-0 triumph over Dunfermline Athletic which extended their lead over arch-rivals Rangers.
Charlie Mulgrew and James Forrest were on target for Lennon's men as they eased to their latest win at Parkhead.
"Don't spoil it. Don't let the run get away. Something like this happens maybe once in your career and they should be proud of it and try to hold on to it as long as they can, that's all I am asking them to do.
"We could easily have switched off and they could have gone home thinking they had chucked it away but they didn't and I am delighted.
"I thought we made it hard for ourselves.
"The only criticism I can level at the players tonight is that they were wasteful in front of goal.
"Apart from that I'm very proud of the team and the way they are playing,
"They have opened up a huge gap in the championship and I couldn't ask any more.
"It took a wonder goal to get us started but that happens when teams sit in.
"Once we got there, I thought we were in total control and I thought we were very good, I think we had 16 or 17 corners and the goalkeeper made some great saves and we did miss simple opportunities but that is a minimum criticism, I am absolutely delighted with them."
Praise
Strikers Anthony Stokes and Gary Hooper were two of the biggest culprits in front of goal but Lennon went easy on the two players who have scored 37 times between them this season.
He said: "The only criticism I have of Gary and Anthony was that they missed decent chances but they are always there to try to put them away.
"I thought we were so comfortable in possession and they weren't under any great amount of pressure.
"We were camped in Dunfermline's half for a long, long time and there can be a lack of clinical finishing that we have become accustomed to with them.
"But you know, they are allowed a day off."
Dunfermline remain at the bottom of the table fighting for their SPL status with Hibernian.
Manager Jim McIntyre praised much-maligned keeper Chris Smith for keeping Celtic at bay for most of the game.
"He showed great character," said the Pars boss.
"He has made a couple of mistakes this season and he has been vilified in the press but what you have to say is that he responded in the right manner.
"I thought he had an outstanding game tonight.
"I think Celtic deserved their win, there is no doubt about that.
"I was proud of the discipline we showed and we were set up to hit Celtic on the break but we could have showed better quality on the ball.
"We had two or three half chances and when you get them you have to work the goalkeeper at least.
"But we are all grafting for each other and that gives you great hope, and I have every confidence that we can stay in this league."