Naismith could return
Rangers star Steven Naismith could return to first-team action before the end of the season.
Last Updated: 10/04/12 7:54pm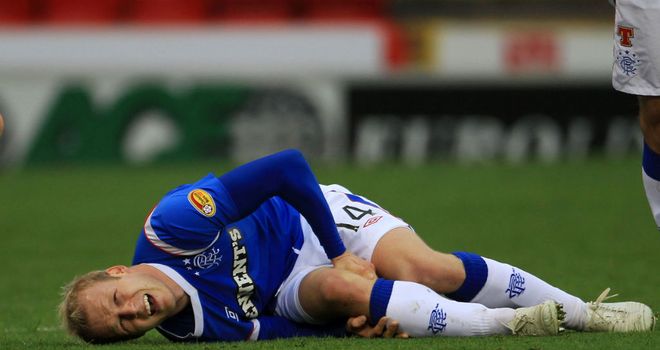 Rangers star Steven Naismith could return to first-team action before the end of the season.
The 25-year-old Scotland international has resumed running after suffering a cruciate ligament injury against Aberdeen on 29th October, less than six months ago.
Naismith, who has been the subject of interest from West Brom, has previously recovered from a similar injury to his other knee.
And manager Ally McCoist told Blues News on Tuesday: "Stevie is doing really well and he was going for a scan today just to check up on his knee and make sure everything is okay.
"He's coming along really nicely but there is no point in rushing anything at the moment with the end of the season coming.
"With that said, it would be nice to see if Naisy' maybe could get a game in somewhere, although we'd obviously take advice from the medical team on that.
Mental strength
"For his own peace of mind, if nothing else, it would be good if he could get 45 minutes somewhere and then he could go away and have a holiday knowing he is absolutely fine.
"It's not a disaster if that doesn't happen, though, and if he comes back in pre-season instead we will be fine with that.
"The one thing about Steven is he trains and works exceptionally hard all the time, whether he is training or coming back from an injury.
"He's got that kind of attitude and mental strength that always gives you a chance of coming back that little bit earlier when you're out."
McCoist expects Lee Wallace and Steven Whittaker to recover from less serious injuries before Rangers' next game, the SPL trip to Hearts on 21st April.
Scotland full-backs Wallace (ankle) and Whittaker (hamstring) both missed the 3-1 victory over St Mirren on Saturday.
"Steven was out running this morning and I spoke to big Lee, who is feeling a lot better," McCoist said. "My hope is they're back training fully with the squad early next week."