New delay in Gers takeover
Rangers administrators have revealed that they will not name their preferred bidder to take over the club on Monday.
Last Updated: 23/04/12 9:38pm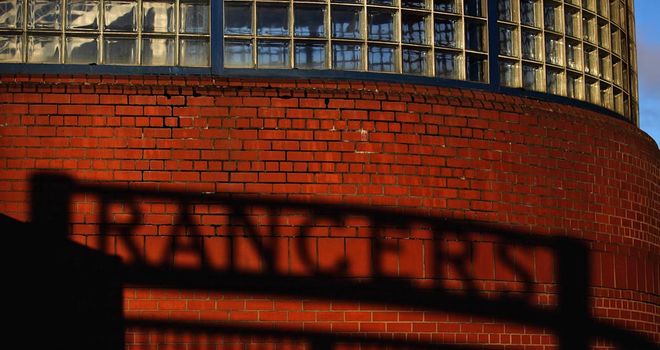 Rangers administrators have revealed that they will not name their preferred bidder to take over the club on Monday.
Duff and Phelps had previously suggested that they would proceed with an offer from USA businessman Bill Miller, if no other offers were brought to the club's attention.
But former director Paul Murray's consortium the Blue Knights have made a new proposition and, along with Miller, have asked for more time.
The administrators have also announced that neither offer is "capable of acceptance" and both will be carefully discussed before any action is taken.
The club have been in administration since 14th February and were deducted 10 points in the Scottish Premier League.
David Whitehouse, of Duff and Phelps, said: "We have continued intensive discussions with interested parties over the weekend.
"The Blue Knights and Bill Miller have asked for a further short period of time to finalise their plans for the club prior to any announcement on a preferred bidder.
"At this stage neither party has currently made an offer that is capable of acceptance by the administrations and we can only move forward when we have an offer on the table that can be concluded following a period of final due diligence."
Rangers would have been eight points behind Celtic if they had not received a points deduction and have four more games remaining.
Manager Ally McCoist admits everyone is being affected by the constant delays but have asked supporters to be patient.
Frustrating
He said: "It has been a frustrating time for everyone associated with the club but I would ask our fans to stick with us for a few more days as we should have a clearer idea of where we are.
"The administrators are working hard behind the scenes in very difficult and complex circumstances to ensure the future of Rangers Football Club."
Andy Kerr, president of the Rangers Supporters Assembly, has also asked the fans to tolerate the drawn-out process but is confident of a speedy resolution.
He said: "Our fans are frustrated by the further delay but hopefully the issues can be resolved in the next few days.
"I'm sure every effort is being made to make progress and it is vitally important that we have clarification soon. It would be helpful if supporters allow Duff and Phelps to get on with their work at this crucial time."
Unprecedented
Whitehouse added: "Because of what has happened at Rangers, the football authorities too have a difficult task as there are many unprecedented issues to deal with.
"This is a complicated administration due to recent and historical events at Ibrox and while everyone wants to see a solution brought about quickly there is a need to grasp the reality of the situation.
"It is all very well for some parties to talk in terms of delivering a Company Voluntary Arrangement.
"That is an administrator's primary objective. However, that can only be delivered successfully if it is agreeable to creditors and it is fair to say that certain bids that have been submitted may not have been approved by creditors.
"It is deeply regrettable that some parties have continued to present their bid as being a solution when it clearly was not the case.
"In terms of timing, we believe that should an unconditional bid be made that would meet creditors' approval and a CVA process could begin, the club could emerge from administration within a period of two months and certainly prior to the commencement of next season.
"If we proceed with an offer that is based on a sale of the business and assets, then we would expect the football club share to be transferred within a matter of weeks, with a preference of prior to the end of the current season.
"We fully understand and share the frustration of the fans. However, we cannot ignore the fact that while they wish to see an exit from administration there is a not a bid on the table now that will deliver that.
"Everyone should also bear in mind that if that is not achievable then we have to look at all options to keep the club going.
"What would be the worst outcome is neither party deciding they wish to carry on. It is therefore not in the club's interest for people - failed bidders and concerned supporters - to be generating hostility to bidders who are trying to secure the club's future."