Rangers boss Ally McCoist wants fans to be allowed to invest in the club
Rangers Ally McCoist believes that fans should be allowed to invest in the club and have a say in how it is run.
Last Updated: 12/10/12 3:32pm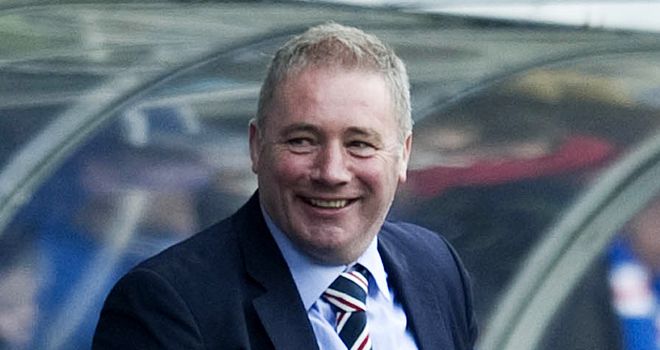 The Scottish giants are seeking admission to the Alternative Investment Market )AIM) of the London Stock Exchange to raise up to £20million, as they continue to re-align their finances following the liquidation of the 'oldco' club and the acquisition of the assets by Charles Green's consortium in the summer.
Green, who values Rangers at £25-30m, hopes to have their admission to the AIM completed by the end of November, and McCoist is pleased with his strategy.
"The last six months has been without doubt the most traumatic in the club's history," he said. "We must move forward and this is a big, big step in the club moving forward again.
"In the past three months the light in the tunnel has been coming close and then moved further away again but I believe we're just about there now.
"We've still got a massively long way to go on the journey but I do believe that this is a big step in moving forward.
"The really pleasing thing, not only being the manager but being an ex-player and supporter, is that it gives the supporters an opportunity to invest in the club which obviously means an awful lot to individuals and supporters throughout the world.
"It's vitally important that the supporters get an opportunity to invest."
Assurance
Green himself explained that the money raised from the new venture will be put into the club's bank account and will not be pocketed by the existing shareholders.
"It's also important that people understand that, of all the money raised in the next few weeks, none will go to any existing shareholders," he said.
"Those shareholders will either put more cash in or be diluted down. But every penny raised will be put in the bank account.
"It's very, very clear what we want to do with those fund and here will be provisions for Ally.
"My personal view is that the figure is low. But if we don't raise £20m, then I will buy whatever the shortfall is.
"I've listed or floated maybe 30 companies and done fundraising as well. There's not been anything underwritten in London in the past seven or eight years to my knowledge. Whenever it occurs someone takes a fee for it.
"I'd be happy to underwrite it but what will happen is in three weeks' time you lot (media) will have my trousers around my ankles saying 'Charles Green underwrit Rangers' and took a three per cent fee when it didn't need doing.
"The reality is we don't need to underwrite it as there will be no shares left over. But if they're not [taken up]. of course we'll take them.
"Why wouldn't we take them? We did it in May when there was nothing to buy. There was no guarantee we would ever play football again."