Billy Stark does not rule himself out of the Scotland job after stepping in on an interim basis
Under 21s boss Billy Stark is not ruling himself out of succeeding Craig Levein as Scotland manager.
Last Updated: 07/11/12 7:09pm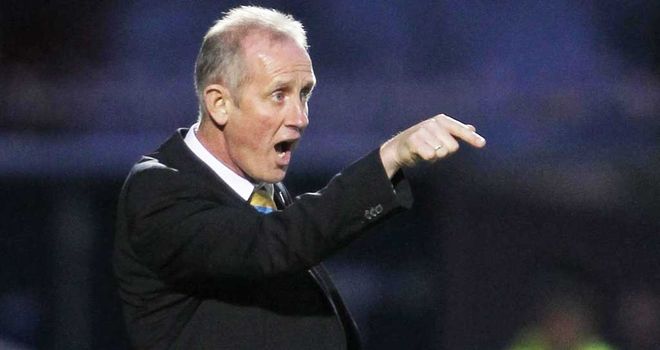 The Under 21s boss took charge of the senior side for next Wednesday's friendly against Luxembourg following Levein's sacking on Monday.
Owen Coyle, Joe Jordan and Gordon Strachan have all been linked with taking over in the long term.
Stark, who has coached the Under 21s since 2008, was asked whether he would be keen on the senior position and answered,
"I've been the Under-21 manager and I've thoroughly enjoyed that job.
"As far as I'm concerned, I'm going to lead the team next week and we'll take it from there.
"I don't know how that process works in terms of applications.
"I've been happy in the Under-21s job and I'm honoured and absolutely delighted to have the faith of the board that I can prove myself capable of taking the team next week.
"I don't think you rule anything out in football."
The 55-year-old, who numbered Aberdeen and Celtic among the clubs he played for before moving into coaching, is adamant he is not looking any further than Scotland's fixture against the side ranked 144th in the Fifa rankings.
"I think it's a job that every individual would covet.
"I've been very proud to be the manager of the Under-21s and I can only imagine that would be exaggerated when you're in the full job.
"My remit is to take the team through the Luxembourg fixture and that's all I'm concentrating on."
"I can say categorically I'm not thinking anywhere beyond this game."
Saddened
Meanwhile Ricky Sbragia, who will look after the Under 21s while Stark takes charge of the senior side, has sympathised with Craig Levein.
The former Sunderland manager was brought into the Scottish youth set-up by Levein and is disappointed to see him go.
"I think it has been really disappointing. It's disappointing when anybody loses their job in football. I've seen it many times.
"Craig was instrumental in bringing me in when he spoke to me about the job so I'm a bit saddened about it.
"Being a little bit more hands-on, he deserves a lot of credit. The board have made a decision and there is nothing we can do about that.
"From my point of view, he was excellent to me. I had a great rapport with him, he's a lovely man and a great coach.
"I'm disappointed but we have to move on and get on with life."