World Cup in Brazil is Celtic goalkeeper Fraser Forster's main target
Celtic's Fraser Forster has set his sights on going to the 2014 World Cup in Brazil after his heroics against Barcelona.
Last Updated: 09/11/12 9:47am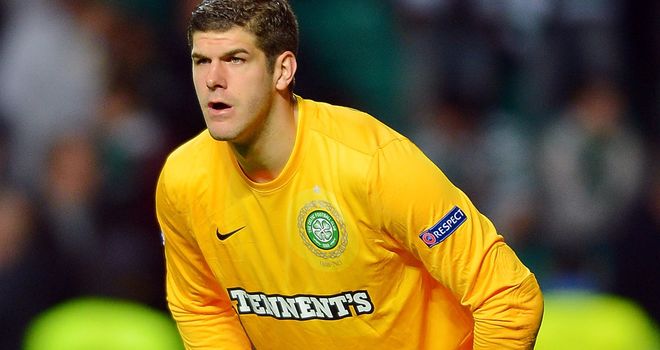 The former Newcastle man has been in brilliant form over recent weeks and has produced inspired performances in back-to-back games against the Primera Liga leaders.
Forster's skills have already caught the eye of England boss Roy Hodgson and the shot-stopper was included in the Three Lions squad for October's World Cup qualifiers against San Marino and Poland.
The 24-year-old is also in the squad for next Wednesday's friendly against Sweden and, although he knows he is behind Joe Hart in the pecking order, he has World Cup finals ambitions.
"I was in the England squad for the last World Cup qualifiers and I'm in again this time which is great," Forster said in The Sun.
"It's been a really good few weeks and sometimes you have to pinch yourself.
"But I think I'm a fairly level-headed bloke and I know the moment you get carried away, football can bite you back.
"England is something I've been aiming for and I enjoyed getting to work with Joe Hart when we met up with the last squad. He's a great guy as is the goalkeeping coach Dave Watson.
"That fortnight was an important experience for me and, having watched the last World Cup on TV, I've got to be aiming to get to Brazil with England for the next one."