Rangers' Charles Green reveals Scottish Football League reconstruction plans
The SFL is to unveil plans for league reconstruction this week, Rangers chief executive Charles Green has revealed.
Last Updated: 12/11/12 8:02pm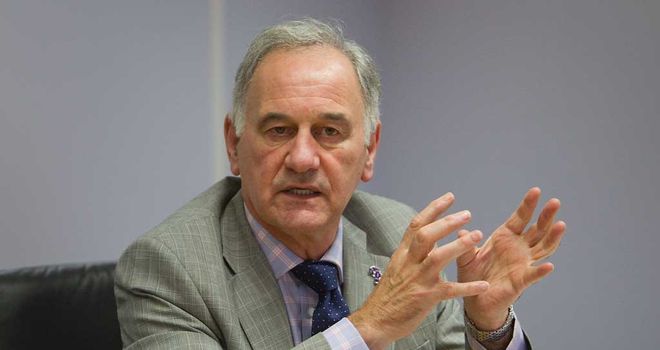 He says SFL clubs will meet on Wednesday to discuss possible changes to Scottish football.
Green will be unable to attend the talks personally, as he will be in England with roadshows aimed at generating further investment in Rangers.
He told Talksport: "I understand that the Football League on Wednesday are having a meeting of clubs and it's the intention of the executive to unveil what they think would be a restructuring plan for Scottish football.
"I won't be there unfortunately, because we are doing the presentations in London. But one of the other directors and the club's secretary will be there so we will find out what the SFL plan is."
Green's consortium purchased the business and assets of Rangers when they were consigned to liquidation in the summer and the club was subsequently re-launched in the Third Division.
Hearts are the latest SPL side to experience financial turmoil and are battling for survival after Her Majesty's Revenue and Customs issued a winding-up order over a tax bill of almost £450,000.
"Hearts have got into financial difficulty and there were rumours in the papers that there were another couple of SPL clubs in financial difficulty so it is a time for change," Green added.
"Whether the SPL could survive if two clubs go out of business would be really questionable. We are just focusing on winning the Third Division and getting promotion.
"We are a football club, we just win matches and, if you keep winning games, you will end up at the top. What the top will be called in three years, who knows?
"If it happens beforehand, because of restructuring, or because clubs go out of business, that's unfortunate. But we had to get on with our lives and other clubs will have to do the same."