Hearts players agree to defer wages they were due to receive this week
Hearts have avoided further sanctions from the SPL after players agreed to defer wages they were due on Friday.
Last Updated: 14/11/12 7:42pm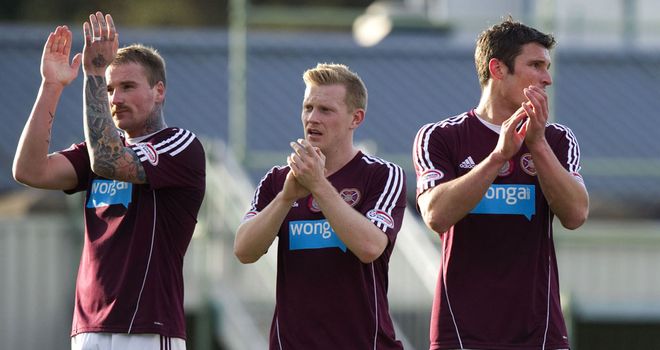 Such a deferral is not considered to be a rule breach by the SPL with such moves deemed to be solely a contractual amendment.
The club had previously been placed under a transfer embargo after players and manager John McGlynn were not paid in September and October.
The deferral was revealed on Tuesday night when Hearts announced they had been granted an extension, until 3 December, to settle their debt of £449,692.04 to Her Majesty's Revenue and Customs.
The Edinburgh club, whose agreement splits the payment, have also provided HMRC with assurances that future payments would be made in a "timeous manner."
Director Sergejus Fedotovas today said: "We've been able to produce the evidence of our ability to pay and we are very much confident it will be done on time."
Meanwhile Supporters Direct have revealed 'positive dialogue' with the club over a fan-led takeover, although as yet they have not extended to knowing what price owner Vladimir Romanov is seeking.
Supporters Direct Scotland's Paul Goodwin said: "I think there'll be major progression in the foreseeable future. The main focus of today (Wednesday) was to get into positive dialogue and that happened.
"The devil will be in the detail, but at this particular stage it's really trying to get to the principles.
"The fact we've met with Hearts four times now would be some sort of assurance for the fans that this is something that's being looked at seriously.
"At some point we'll get to a place where we get all those fan groups together and say 'here's the options', but we're a bit away from that just now."