Rangers' appeal against the use of EBTs has been 'allowed in principle'
A tribunal has 'allowed in principle' Rangers' appeal against HMRC over their use of Employee Benefit Trusts.
Last Updated: 21/11/12 7:29am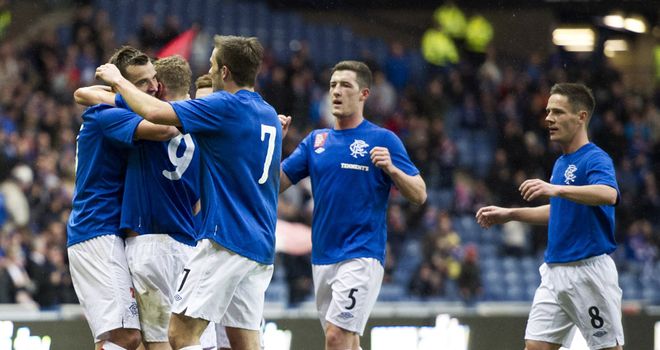 The tribunal ruled - by two votes to one - that during the use of the scheme between 2001 and 2011, 'monies received by employees were not paid to them as their absolute entitlement'.
Rangers had claimed that these payments, which were reported to be close to £49m, were loans as opposed to wages and were not liable to tax.
The tribunal has now ruled that Her Majesty's Revenue and Customs assessment of what became known as 'the big tax case' should be 'reduced substantially' with only some payments subject to tax.
In a statement, it said: "It was conceded that advances in favour of certain players are taxable and liable to NIC (National Insurance Contributions), and 35 we have found that, in certain other limited instances, there may be a similar liability.
"To that extent the assessments should stand. In these circumstances we expect that it is sufficient that we allow the appeal in principle.
"Parties can no doubt settle the sums due for the limited number of cases mentioned without further reference to the tribunal."
Murray International Holdings, who were majority shareholders of the oldco Rangers until Craig Whyte took over in May of last year, backed the findings of the tribunal.
In a statement, they said "We are satisfied that the Tax Tribunal has now published its widely awaited decision and note the contents thereof.
"We are pleased with the judgement which leaves minimal tax liability and overwhelmingly supports the views collectively and consistently held by our advisers, legal counsel and MIH itself."
The decision does not affect the current football club at Ibrox, which was
reconstituted as a new company when the oldco Rangers was consigned to liquidation in June.
HMRC confirmed it is considering appealing against the decision: "We are disappointed that we have lost this stage of the court process and we are considering an appeal.
"The decision was not unanimous and the diligence of HMRC investigators was acknowledged by the whole tribunal.
"HMRC is committed to tackling avoidance and it is right that we challenge the type of avoidance seen in this case."
Rangers chief executive Charles Green believes the verdict "undermines the validity" of an SPL investigation into alleged undisclosed payments to players.
A statement from Green read: "The judgment serves to further undermine the
validity of the commission into the use of EBTs.
"As we have said all along the SPL decision to press ahead with a commission
was ill-timed and fundamentally misconceived."