Sir David Murray set to submit a complaint regarding the publication of his tax affairs
Sir David Murray is set to submit a complaint regarding the publication of information relating to his tax affairs.
Last Updated: 27/11/12 7:35pm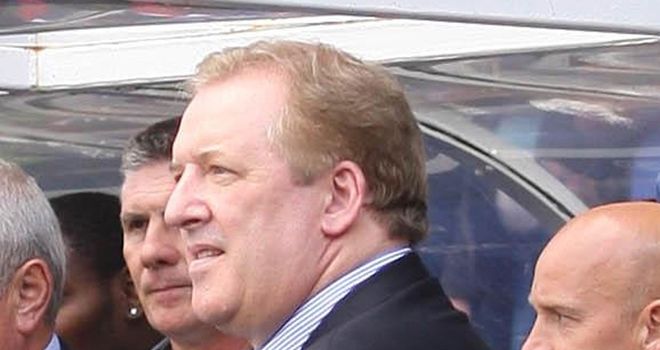 Last week oldco Rangers won their appeal in principle against a bill from Her Majesty's Revenue and Customs over their use of Employment Benefit Trusts (EBTs) from 2001 to 2010.
Details of the contentious payments to staff and players had emerged on the internet and in a BBC Scotland documentary entitled Rangers - The Men Who Sold The Jerseys, which won a Scottish BAFTA.
In a statement, Professor Watson of Levy & McRae said: "Sir David regards such information as private and confidential and the publication of such information as unlawful.
"He has asked that this matter is investigated and that anyone found guilty of breaching the law is the subject of prosecution."
Last week a spokesperson from Murray International Holdings (MIH), which was majority shareholders of Rangers until May 2011 before the club was sold to former owner Craig Whyte for £1, said: "It is disgraceful that personal information relating to employees and former employees of MIH and its subsidiaries has been banded about in public in such a casual manner.
"There were only three potential sources of the complete set of documentation utilised in the broadcast and correspondence; being MIH's head office, the First Tier Tax Tribunal and HMRC, together with their respective advisers.
"Importantly, Rangers Football Club PLC did not have access to all of the material covered in the programme and letters.
"MIH's underlying concern is that there may have been criminal offences committed in connection with the provision of this material to the BBC.
"MIH therefore requests a formal independent police inquiry into how this documentation came into the possession of the BBC.
"In this regard, MIH will willingly and openly co-operate with any formal investigation, submitting itself to the same level of inquiry as any third party."
BBC Scotland, HMRC and Her Majesty's Courts and Tribunals all declined to comment on Tuesday.
A First Tier Tax Tribunal delivered a majority verdict in favour of the Ibrox club, following a claim by HMRC over the use of EBTs that could have resulted in a tax bill of £75million.
Two of the three judges accepted Rangers' argument that many of the payments made to players between 2001-10 through EBTs were loans and not taxable.
Rangers were forced to call in the administrators in February over a separate unpaid tax bill accrued during Whyte's ill-fated tenure, before being consigned to liquidation in the summer.