Hearts director Sergejus Fedotovas has again pleaded for financial support
Hearts director Sergejus Fedotovas has again pleaded for financial support to keep the SPL club afloat.
Last Updated: 30/11/12 8:57am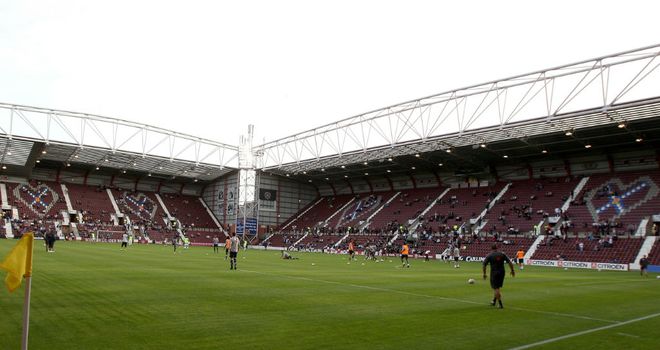 Hearts face a projected £2million deficit between now and the end of the season and have numerous financial concerns, including the imminent deadline over a £450,000 winding-up order.
The William Hill Scottish Cup holders play Hibernian at Easter Road on Sunday and on December 8 against Aberdeen at home - an occasion which can help to finance the club, according to Fedotovas.
He said on the club's official website: "For the remaining 10 home league fixtures this season, if we were to achieve attendances of over 16,000 at Tynecastle then this would inject a much-needed £800,000 into the club and ensure our survival through until the end of the season.
"If we achieve a good run of sales in both the share issue and tickets in December it gives us a hope of improving our squad in January.
"It is in our power to do this and we hope that fans will continue to rally to the cause."
Fedotovas praised the response of supporters to a £1.79m share issue scheme launched in late October which the club say has thus far raised almost £700,000.
The director, right-hand man to majority shareholder Vladimir Romanov, set £1m as an achievable target before the fundraising scheme ends - £100,000 per week would be required - and asked for the backing of the Edinburgh business community.
The share scheme is set to run for three more weeks.
"If we were to break through the £1million level for share sales it would be a significant step towards stabilising the club," Fedotovas added. "We can only do this with everyone's help and that particularly includes the Edinburgh business community."
He continued: "We would like to think they will now step forward and back us as one of the city's greatest sporting institutions in order that we can continue contributing to the city both on and off the football field.
"Achieving the £1m mark will not in itself provide us with guaranteed security through until the end of the season as we will still have a financial shortfall, but it will assist us greatly in keeping the club going in the forthcoming weeks.
"Following the end of the share issue on December 19 we will be reviewing all possible options in order to address the remaining gap if the share issue is not fully subscribed. The most important task for us is to ensure we keep the club alive until next summer."