Celtic star Mulgrew wants to face Man Utd in Battle of Britain clash.
Celtic star Charlie Mulgrew wants to face Man Utd in Battle of Britain clash.
Last Updated: 16/12/12 7:53am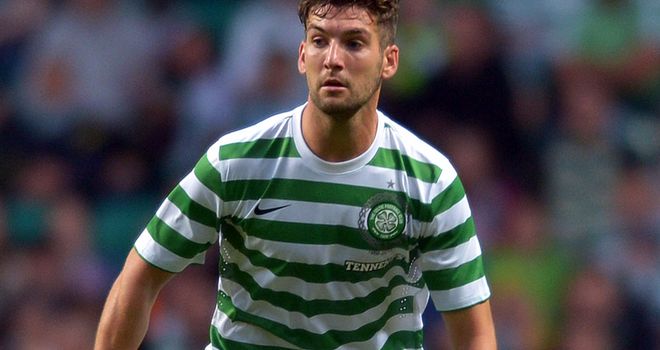 The Hoops defender's 15th minute corner set up Victor Wanyama for the opener and another set-piece with seven minutes left allowed Gary Hooper to seal the win.
The Scotland player turned his attention to Thursday's Champions League draw and picked United as the side he hopes comes out of the hat with Celtic in the last 16.
"I would like Manchester United, personally," he said.
"Whoever it is, it is going to be hard for us and we will need to be prepared. But I would like Manchester United, it would be a Battle of Britain type of game.
"I have watched them but I have never been involved in them so that would be my choice.
"You have to believe in yourself, whoever you get is going to be difficult, we are not making any mistakes about that.
"We did get a result against Barcelona here but it is different types of football we are up against, it is Manchester United so it would be hard."
Celtic manager Neil Lennon, who described Mulgrew's deliveries as "world class" was happy with his side's performance.
He said: "We played well and should have been out of sight before we got the second goal.
"I was pleased with the way we worked their goalkeeper and our concentration levels. There was good attitude, tempo and aggression and we managed to maintain that for the majority of the game.
"We have a four-point cushion with a game in hand, I don't know if we will win that game in hand but we are starting to get some daylight between us and the rest, which is obviously what we want."
The Hoops boss was however disappointed that his side were not awarded what he described as two blatant penalties.
Lennon added: "There were two blatant ones (penalties). The one on Hooper and the one on Beram (Kayal), particularly the one on Beram.
"The linesman is on that side and he has a clear look at it.
"There were some suggestions this week after the Arbroath game that we get all the big decisions, but that is obviously not the case so we can put that theory to bed straight away."