Kilmarnock manager Kenny Shiels is facing an SFA hearing in January
Kenny Shiels has been handed a Scottish FA notice of complaint because of comments he made about referee Andrew Dallas.
Last Updated: 18/12/12 5:30pm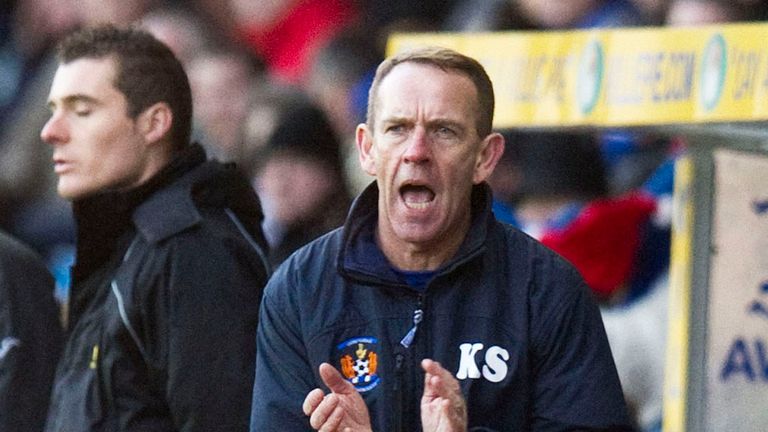 Shiels was sent to the stands during a match against St Johnstone on 24 November following a run-in with Dallas, who was acting as fourth official at the match.
The dispute occurred after Kilmarnock skipper Manuel Pascali was sent off in the third minute of St Johnstone's 2-1 win at Rugby Park and, having consulted with Dallas, referee Stevie O'Reilly sent Shiels to the stands.
At an SFA judicial panel at Hampden last Thursday, Shiels was found in breach of rule 203 relating to misconduct but the disciplinary body decided no further sanction was necessary, given that the Rugby Park boss spent 87 minutes in the stand.
Reflecting on the hearing on Friday, Shiels said: "I brought in evidence to disprove the fourth official, who fabricated stuff to try and incriminate me. I don't like that.
"The fabrication was outrageous - at least four different things that were said about me - but he wasn't aware I had visual evidence on my laptop."
But Dallas said: "I am extremely surprised and disappointed by the allegations and comments made by Mr Kenny Shiels.
"I have referred the matter to the Scottish FA for consideration and will also be seeking advice from the Scottish Senior Football Referees' Association."
And the Scottish Football Association have now charged Shiels with breaching their disciplinary rules 68 and 71.
Shiels is accused of "not acting in the best interest of Association Football by making improper comments of an insulting nature in media interviews, stating that Andrew Dallas had 'fabricated' evidence for and during a Judicial Panel Hearing on Thursday 13 December 2012."
The SFA added that Shiels had also not acted in football's best interests by accusing Dallas of having "acted in a 'manipulative and devious' manner in respect of alleged misconduct by Mr Shiels at the match on 24 November 2012 between Kilmarnock FC and St Johnstone FC."
Shiels has until 27 December to respond to the notice of complaint and a principal hearing has been scheduled for 10 January.
Don't miss any live and exclusive football coverage this festive season. Click here to visit Sky Sports' Festive Calendar