Rangers boss Ally McCoist delighted with share issue and victory over Annan
Rangers manager Ally McCoist was celebrating a good day on and off the field on Tuesday night.
Last Updated: 19/12/12 8:12am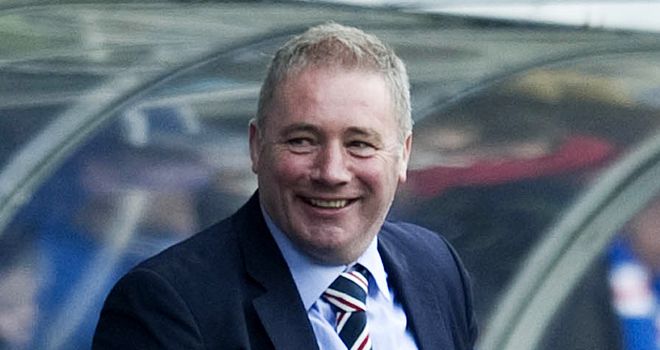 Having learned that more than £22m has been raised from investors and supporters in a share issue, McCoist then watched his side beat Annan 3-0 at Ibrox.
A crowd of 42,135 watched Rangers move six points clear at the summit of the Irn-Bru Third Division tonight, with a double from David Templeton and an Andy Little strike securing the victory, and a red card for Lee Wallace when he gave away a penalty the only disappointment for the manager.
McCoist said: "I actually love the fact that the fans keep surprising me. It is unbelievable that, on a Tuesday night, we've got 42,000 against Annan. It's just amazing."
Regarding the red card, he added: "My initial reaction was that it was soft.
"I'll definitely watch it again and reassess and, if I'm wrong, I'll stand corrected, but I didn't think it was a foul, let alone a goalscoring opportunity.
"Going down to 10 men wasn't ideal but I still felt we would create chances and we did that.
"I'm delighted that we've got seven wins in a row and we can all definitely see a little more consistency in the performances - but there are still a lot of things we can do better."
As for the share issue, McCoist added: "It was a great day off the park.
"The fact that it's in the region of £22m, and for the fans to chip in with roughly £5m, I think is absolutely staggering.
"In the lead-up to Christmas, when finances are tight at the best of times, in a recession, for our supporters to go into their pockets and come up with that money is another incredible show of support for this football club.
"The one thing the investors and, certainly, the fans deserve, is for their money to be used wisely. And I would certainly hope to have an opportunity to use some of that money wisely."