Rangers chief executive Charles Green takes another swipe at Scottish Cup opponents Dundee United
Rangers chief executive Charles Green has taken another swipe at Dundee United ahead of February's Scottish Cup tie.
Last Updated: 23/12/12 9:27am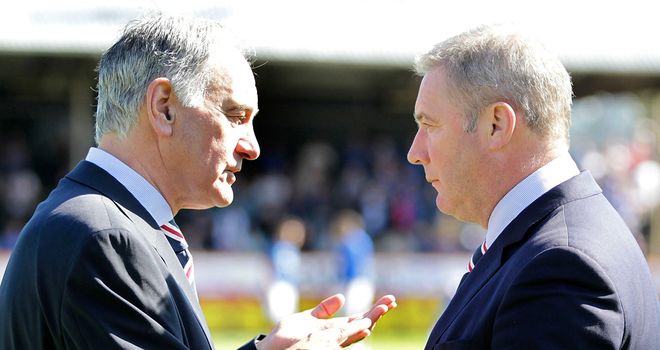 Green refused to take tickets for the match, with the backing of first-team boss All McCoist, after a section of his club's supporters suggested a boycott of the fixture.
But United have decided to sell tickets to fans of the Third Division club after the Scottish Football Association clarified they would still have to split the gate money 50/50 with Rangers.
Green now believes there could be trouble among the away fans at Tannadice, and is calling for United to change the decision.
"We have been very clear from day one, because of the fans' issues with Dundee United in the past as a board we made the decision not to take tickets and requested they didn't make tickets available to Rangers fans," Green said.
"There are a number of issues, safety has to be paramount. We are very conscious of safety. We are concerned that Dundee United won't know who they are selling tickets to and how will they know if they're genuine Rangers fans or potential troublemakers?
"Ally supported this and was part of the decision-making process. Who better as a former player, a fan and a manager who said that fans shouldn't go to the game.
"I would ask United to think again. The majority of Rangers fans said they didn't want to go. There will be a few who do and I can understand that."