Changes to Scottish football structure could leave Rangers in the bottom division in 2013-14
Rangers may have to play in Scotland's bottom division again next season if changes to the league structure are passed.
Last Updated: 07/01/13 10:06am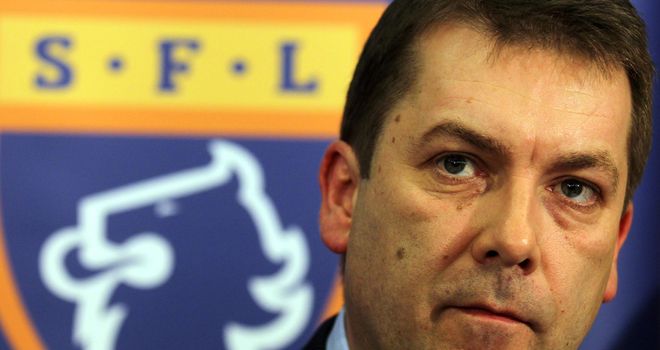 The Scottish Premier League and Scottish Football League have been in discussions over major changes with SFL chief executive David Longmuir admitting a plan with a 12-team top division was looking more likely.
He also hinted that the Ibrox side would not be fast-tracked into the second tier if agreement is reached in time to implement change for next season, meaning the earliest they could reach the top division would be 2015-16, just as it stands now.
Longmuir told the Daily Record: "This isn't about one club. This is about what is best for all of Scottish football.
"People are getting ahead of themselves a little bit because no decisions have been taken with regards to how the new leagues would be made up.
"But if you look at the league tables as they stand today it doesn't take much imagination to work out how to make it happen.
"Yes, that might be disappointing for some clubs in the Second and Third divisions if it was to work out that way but then we are talking about the long-term good of the game here.
"If change is going to happen then inevitably there would have to be one season when adjustments would have to be made."