SFL and SPL agree on new league structure for Scotland
The Scottish Football League and Scottish Premier League have agreed on a set of principles to restructure the game.
Last Updated: 09/01/13 8:13am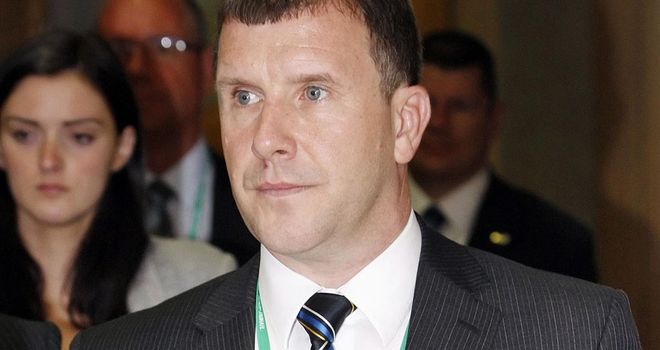 The merger - which could be implemented as soon as next season - would see a new league structure of 12-12-18.
Both sets of clubs will vote on the proposals by the end of this month.
But the agreement, reached during a meeting at Hampden Park involving the main decision-makers in the Scottish Premier League, Scottish Football League and the Scottish Football Association, is being seen as a major breakthrough.
SFA chief executive Stewart Regan, accompanied by SPL chief executive Neil Doncaster and SFL counterpart David Longmuir, confirmed the proposals being examined would see the two top divisions split into three groups of eight after 22 games.
Regan said: "We have had a very productive meeting of the Scottish FA's professional game board at which we had board representatives from around a third of the 42 senior clubs in Scotland.
"I'm delighted to say that we have agreed a set of principles to restructure Scottish football.
"That will include a single league body, subject to club consultation.
"There is a recognition that Scottish football is crying out for a new dawn and we have now got agreement to take to clubs. That is a huge step for the game in Scotland and it should not be under-estimated. We will deliver the change when we think it is the right time."
Longmuir argued Scottish football was better served by one league body.
He said: "I was hugely encouraged by today because we need to get the pillars of the game back in solid foundation.
"The governance of the game and distribution of wealth will now affect all 42 clubs, and I think that in itself is a major breakthrough.
"Every club should be able to embrace this because they are all going to benefit from it."
The proposed structure was previously used in Austria and Switzerland.
Doncaster defended the proposed system of a three-way split after 22 games, which was previously in place in Austria and Switzerland.
"What the model ensures is vibrancy and excitement at all stages of the season for clubs at all levels," he said.
"What we have at the moment is a situation where perhaps at the bottom of the SPL and top of SFL1 it can be very difficult when you have one club detached at either end.
"Effectively the middle eight, all 14 games played by those clubs, is a play-off game."