Rangers manager Ally McCoist continues search for reinforcements
Ally McCoist will not be deterred by setbacks as he bids to strengthen his Rangers squad with quality reinforcements.
Last Updated: 17/01/13 5:34pm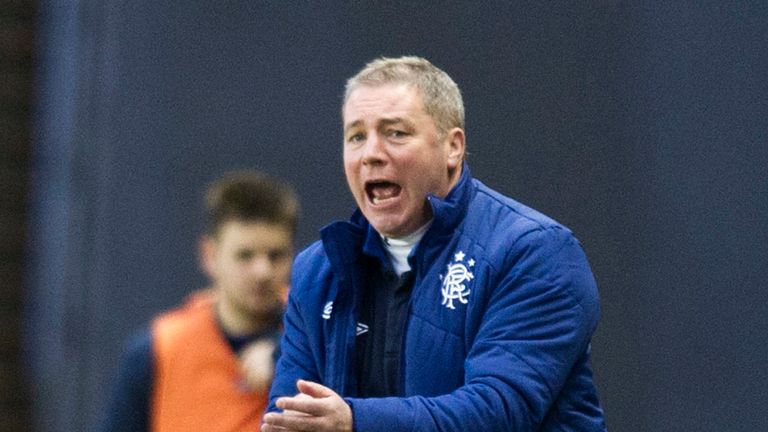 The Ibrox side are under a transfer embargo and must wait until September before they can register free agents, but are free to negotiate pre-contract agreements this month.
McCoist admits the task of convincing top targets to join his Irn-Bru Third Division outfit is a difficult one, but has refused to give up on his search for new faces.
He said: "Being honest, the top level of player doesn't want to come and you can totally understand that.
"But we have to look to boost our squad by bringing in players that will help us continue to rise through the leagues. That's the target.
"It goes without saying that the top quality, higher quality players that we used to be able to look at would not fancy playing in the division that we're in at the moment - and certainly the division that we would be in if it were 12-12-18.
"But, of course, we've got to keep trying. I certainly will continue to knock on doors.
"Getting the majority of them slammed in your face won't put me off at all.
"We will continue to look and attempt to sign the best players we possibly can. Our fans deserve that."
Reconstruction
Rangers are unhappy with league reconstruction plans for a 12-12-18 format, that could be implemented as early as next season if approved.
However, McCoist says he will treat talk of Rangers joining the Blue Square Bet Premier League "with a pinch of salt".
The debate over whether the Light Blues should seek to quit Scotland was reignited by chief executive Charles Green last week as he hit out over the reconstruction plans.
Conference chairman Brian Lee has refused to rule out the possibility of Rangers joining his division, with the issue set to be discussed at a meeting of clubs on Monday.
McCoist said: "We will just wait and see what happens.
"I take a lot of it with a pinch of salt because doors get closed in your face and other ones are half-open and other ones open up.
"Until there is anything concrete, I wouldn't really comment on it.
"But it's nice to see that they're not slamming the door in our face."