Former Scotland boss Craig Levein found the national job a frustrating role
Former Scotland boss Craig Levein has revealed he found managing the national team a frustrating job.
Last Updated: 22/01/13 9:19pm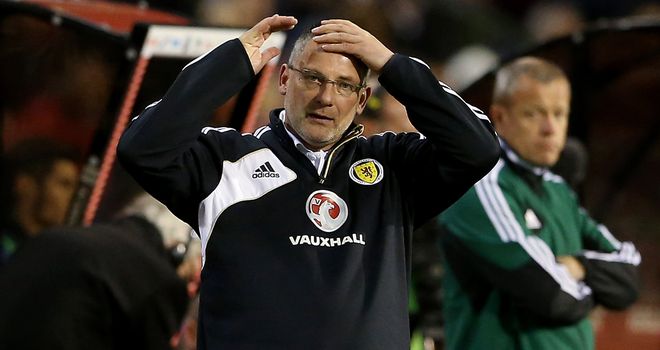 Levein was sacked in November after a competitive record of three wins from 12 matches.
The former Hearts, Leicester and Dundee United manager said: "I found the international scene quite difficult - if something went wrong, you had to wait a long period before you could do something about it.
"I found that incredibly frustrating. And then of course you get to the next game and you are missing five players who played the previous game.
"I'm methodical with the way I work, I like to have the players on a weekly basis, play the game, do the analysis and prepare for the game on a Saturday, and it becomes a routine.
"I could never really get into a routine I was comfortable with.
"On saying that, I wouldn't swap any of it, even the kicking I got towards the end.
"It's all character-building and I was hugely proud to be national team manager."
Controversial
Levein found it difficult to overcome the negativity towards him from fans disillusioned by his striker-free formation in a 1-0 Euro 2012 qualifying defeat by the Czech Republic.
Levein, who remains in legal dispute with the Scottish Football Association, said: "If it hadn't been so early in my reign, if I had known the players better, and if some things had been a little bit different then I probably wouldn't have played it.
"But I didn't do it to be controversial. I had watched a couple of European matches, watched Rubin Kazan play Barcelona the same way and they drew 1-1.
"I did it for what I thought were the right reasons.
"Whenever you do anything different, it becomes a stick to beat you with."