Neil Lennon questioned Celtic's attitude after the upset defeat by St Mirren
Neil Lennon slammed Celtic's attitude after the defeat by St Mirren in the Scottish Communities League Cup semi-final.
Last Updated: 28/01/13 8:26am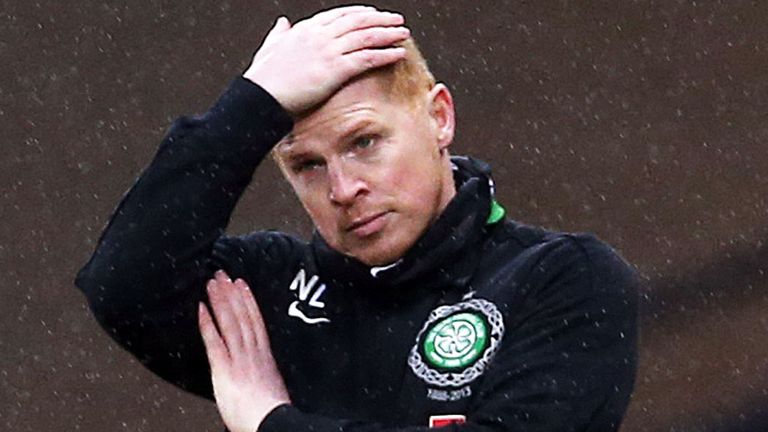 Esmael Goncalves' early opener for St Mirren was cancelled out by Gary Hooper, but the Buddies made the most of Charlie Mulgrew's missed penalty as Paul McGowan scored from the spot before Steven Thompson added a third.
Mulgrew's late strike was a mere consolation for Celtic and an angry Lennon felt his side did not display enough desire or discipline.
"I am bitterly disappointed with that performance," he said. "It was soulless, it lacked intensity, desire and will to win, all the attributes this team has shown over the last six to nine months.
"That was an impersonation of a team that I know. There is not one player, maybe with the exception of Hooper, that would get pass marks today. There was a lack of discipline in our shape and play.
"I thought we were defensively awful, the decision making was poor and there was a lack of quality in the final third. Some of them behaved like spoiled kids out there.
"The treble is gone, we have only ourselves to blame. The criticism is going to come our way and rightly so."
Lennon warned his side that he might make changes in the last week of the transfer window after being let down by some of his trusted performers.
"I can take losing to Kilmarnock in the final and in the semi-final last year (against Hearts) because our performances were decent, but that was awful today from what I perceive to be top-class players," he said.
"But maybe I have got it wrong and maybe I have to look at this week and change things, I don't know. I'd like to congratulate Danny and his team, he is a good guy in the game.
"I don't want to take anything away from them, but I cannot be too enthusiastic about our performance."
Lennon was far from happy with Mulgrew after he decided to place his penalty kick rather than opt for power.
"I am sick of us missing penalties. I am sick of it," he said. "For some reason Charlie decided to side-foot it when I wanted him to put his laces through it.
"Charlie Mulgrew is the best dead-ball player I've seen for a long, long time,
certainly in Scotland, and he is one of the best in Britain.
"I was amazed he side-footed it, I thought he would have whipped it or put a
bit of power in it."