Inverness boss Terry Butcher hits out at stay-away supporters
Inverness boss Terry Butcher has hit out at their stay-away fans after a paltry crowd watched them move up to second.
Last Updated: 15/02/13 2:19pm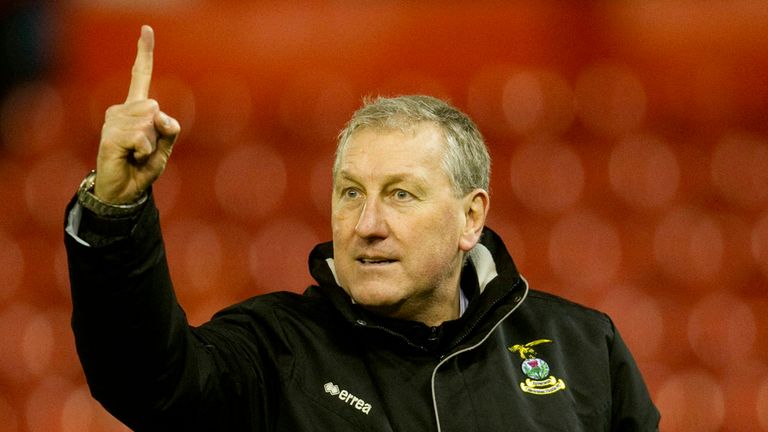 Just 2,529 were in attendance on Wednesday evening to witness the 1-1 draw with Kilmarnock, when Nick Ross' goal looked like securing all three points before Borja Perez's last-gasp leveller.
A freezing and snow-hit February evening and the screening of Real Madrid's UEFA Champions League clash with Manchester United are likely to have had an impact, but Butcher is at a loss as to what else he and his players can do.
He told the Daily Record: "It's difficult weather but I don't know how much more we can do when you look at the crowd.
"We played some of the best football of the season. Does this city deserve a team like ours? I don't know.
"We cannot do any more than be second in the table and we could have gone three points clear with eight games left before the split."
Goalscorer Ross shared the manager's frustration and feels the team deserve more backing given their current standing in the table.
He added: "We're playing well and expected more to come out but I suppose Wednesday was a cold night with Champions League on TV.
"It is disappointing to hear that just over 2,500 made it along but we can't do much more. It's frustrating for the players, especially to hear us booed off at the end.
"We were trying our best and didn't draw on purpose. We're still second in the table and having a great season.
"The gaffer showed loyalty to us by turning down Barnsley so maybe it's time for the supporters to do their bit. He loves it here and gets on well with everyone. He's happy to be here so we all have to try and do it for him - players and supporters."