John McGlynn asks for realism from Hearts fans
Hearts manager John McGlynn has asked that the club's supporters be realistic before they criticise the team.
Last Updated: 21/02/13 3:12pm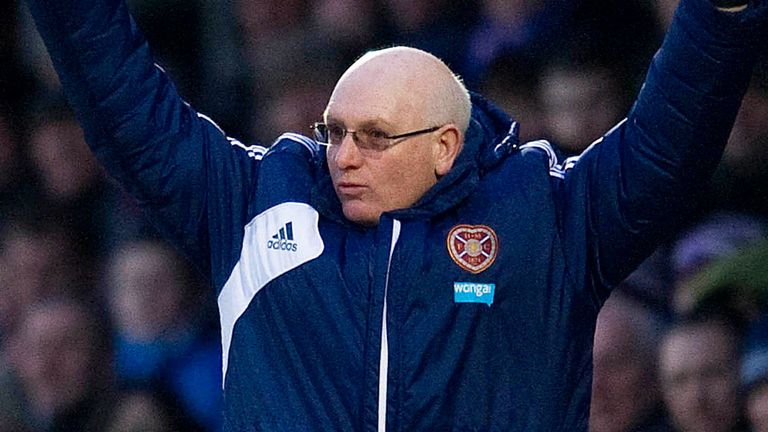 The 51-year-old has been singled out for blame by Jambos fans since last Saturday's 3-0 loss to Kilmarnock, which left them 10th in the Scottish Premier League table.
However, the club's financial position remains uncertain and McGlynn has been forced to field an inexperienced side this season following the sale of many of the club's senior players.
The likes of Ian Black, David Templeton, Rudi Skacel and Craig Beattie were sold as McGlynn was taking over from Paulo Sergio in the summer, while winger Andrew Driver departed Tynecastle on Tuesday to join Major League Soccer side Houston Dynamo on loan until his contract with Hearts expires at the end of the season.
"Anyone who feels they've paid their money and want to vent their anger and frustration are entitled to do that," said McGlynn ahead of this weekend's match with Inverness. "That will happen - it goes with the territory.
"But if you're realistic and take everything on board at what's happened here and where we're going, trying to bring younger players through and get them to gain experience to handle these situations, then it is a learning curve based on the future.
"You have to remember that as well and give everyone an opportunity. It shouldn't necessarily be all or nothing at 10 to five on a Saturday night. You have to look at the longer and bigger picture and what we're bringing through here.
"It's only two or three weeks ago that all these young players were the best thing since sliced bread and all of a sudden it's going the other way.
"Football's like that. Should it be in the circumstances we're having to work under at the minute? Some will still be critical of me and others will perhaps understand the situation. Football revolves around different opinions from people."
Despite their problems, Hearts still have a chance to claim some silverware this season when they defend the Scottish League Cup trophy they won last campaign, against St Mirren on 17 March.
"We're 90 minutes away from giving the fans the success they want in an
incredibly difficult season. It's unbelievable difficult. Yet we could possibly
won back-to-back Cups - it's 50 years since Hearts won the League Cup," added McGlynn.
"I still don't know the last time Hearts won trophies in successive seasons.
"We're one game away. And it's a difficult, difficult season. We could still
be in the top six."