Ally McCoist thinks Andy Little's goal at Berwick is a goal of the season contender
Rangers boss Ally McCoist thinks Andy Little's goal at Berwick was the best of the season so far.
Last Updated: 23/02/13 6:54pm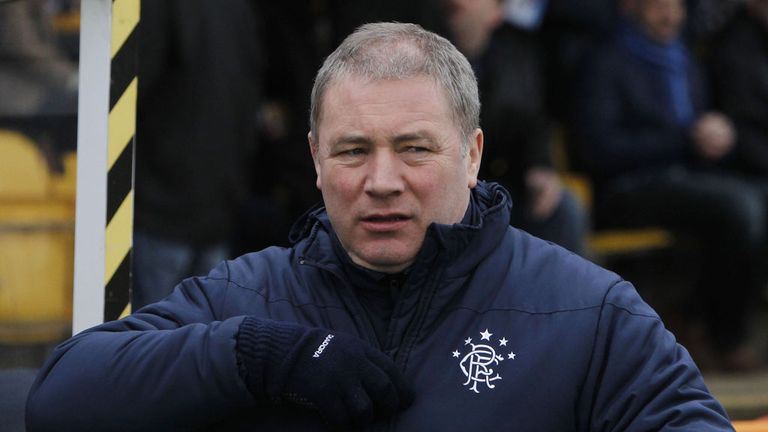 Little struck with a beautiful volley just before half-time to give Rangers a 2-1 lead and substitute Sebastien Faure was on target in the second-half to wrap up a 3-1 win for the leaders.
Asked about Little's goal, McCoist said: "It was a goal that would grace any ground at any level in world football. It was an absolutely fantastic strike and a dream goal.
"For me, that's the goal of the season and it will certainly take a bit of beating, that's for sure.
"I do say to Andy on numerous occasions that he'll always get chances but the most important thing for him is to arrive in the box at the right time. His timing is so important.
"He doesn't want to get there too late or too early and his run for the goal was spot on, while the technique was a delight to watch. His performances and his goals have been fabulous."
Rangers had equalised earlier from the penalty spot, Dean Shiels scoring after he was brought down by Dougie Brydon.
Some observers suggested the Rangers man went down too easily but McCoist said: "I thought Dean was clever and I'd have done exactly the same myself.
"I think he knew the challenge was coming in and, for me, it looked a penalty. I haven't seen it again and I might stand corrected but I thought the referee got it right.
"It doesn't matter if it's soft contact or not. If there's any kind of contact to make it a foul in the box, it's a penalty. The referee was very well placed and he got it spot on.
"If it had happened anywhere else on the park, people would have had no problem with it. The referee made a call and I agree with him.
"We didn't start at all well and lost a really soft goal but we responded well overall and I was delighted with the win."