John Brown tells fans all is not lost in Dundee's bid to remain in SPL
Dundee interim boss John Brown has promised fans that all is not lost in their bid to avoid relegation from the SPL.
Last Updated: 26/02/13 7:42pm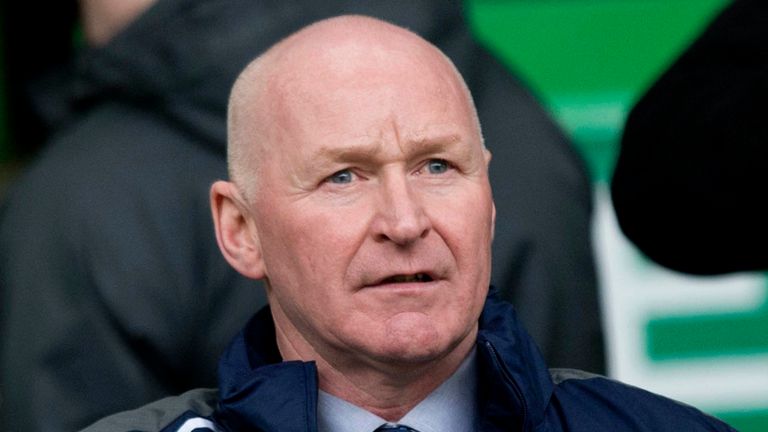 Dundee currently sit at the bottom of the league table but the newly appointed Brown remains positive despite Saturday's 5-0 defeat at Celtic.
The former Dundee and Rangers player said: "All the players have got to show that commitment and showed that against Celtic.
"The effort the players put in against Celtic under the circumstances of the last week was remarkable.
"To look at the team and the way (assistant) Ray Farningham set them up shows I have something to work with.
"We haven't scored many goals this season but we created one or two chances and we have to create more.
"There is no point in sitting back and expecting to get draws because we need to win games. I have to get that into the players' heads.
"We could see out the season and pick up a few draws. But if you lose a few and win more at least you'll have a go.
"It is going to be difficult with the gap being what it is but I always believe that if you go into a game 0-0 you have something in the bag and I want the players to build on that."
One of Brown's first tasks will be to work on Dundee's meagre tally of 14 goals scored so far this season, by some distance the poorest return in the division.
"I will be encouraging players to get into the final third and create chances," he added.
"The reports I've had through the season are that up until the final third they are organised and the spirit has been good.
"The bottom line is quality. We can work with what we've got here but they've got to come up to the mark.
"It would be massive to win it just to give the teams above us a bit to think about. It could end up a very interesting run-in.
"We've got 11 games and we're going to have a go. I can guarantee you that. Everybody's got their livelihoods (at stake) and mortgages to pay.
"But I will be happy if the players come off the park, look in the mirror and say 'I never left 10 per cent in the dressing room'."