Celtic defender Charlie Mulgrew would like to see Rangers back in the SPL
Celtic defender Charlie Mulgrew admits he would like to see Rangers bring added competition back to the SPL.
Last Updated: 11/03/13 5:49pm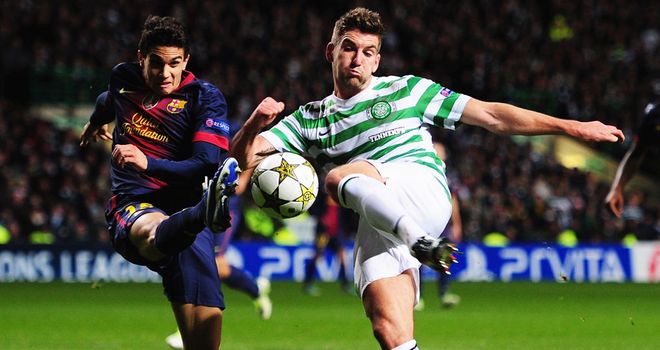 Neil Lennon's men are currently coasting to the title, with a 15-point gap separating them from their closest challenger.
Rangers' demotion to the Scottish Third Division on the back of their much-publicised financial struggles has left the top tier as a one-horse race.
Authorities in Scotland are discussing a restructuring of the league set-up, but Rangers will be forced to clamber their way back to the top.
Mulgrew is reluctant to be drawn into a debate regarding what is best for Scottish football, but concedes that Celtic miss the Old Firm rivalry with their Glasgow neighbours.
Asked if he would like to see Rangers back in the SPL, the Scotland international said: "If it was my choice? Probably, yes.
"I don't want to get involved in what's going on with that side of things, I'm just concentrating on things at Celtic. Hopefully things will work out for the best."
Pressure
Pressed on whether the absence of a serious title rival has seen Celtic take their foot off the gas this season - with the Bhoys allowing a two-goal lead to slip en route to losing 3-2 to Ross County on Saturday - Mulgrew added: "There is not as much pressure on you but I am not using that as an excuse.
"The players know we weren't good enough against Ross County on Saturday and the performance was not acceptable.
"We should have gone on and won that game after being 2-0 up but we never so we have to look at that and hopefully we will be ready when the next game comes.
"At a team like Celtic there should never be a lack of motivation. The fans demand and the club demands that we win every match. So it's not a lack of motivation, it's just that we have to do better. It is simply that."