Scottish Communities League Cup final: Steven Thompson reflects on St Mirren's victory
Steven Thompson says his main emotion was of relief after helping St Mirren to a Scottish Communities League Cup win
Last Updated: 18/03/13 11:49am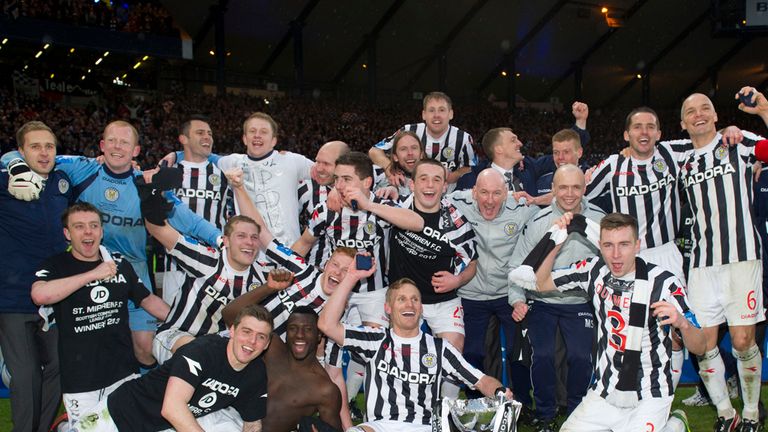 Thompson's turn and through ball for Gary Teale changed the game as the winger set up Esmael Goncalves to score a 37th-minute equaliser against the run of play.
Even better was to come for the striker as his first-time finish found the roof of the net seconds after the restart to give St Mirren a 2-1 lead.
The Paisley-born forward had won a clean sweep of domestic honours with Rangers but he admitted before this game that winning a trophy with his boyhood heroes would eclipse anything he had achieved.
Thompson said: "I've been running it through in my head, running through my goal and running to the fans, running through winning the cup.
"To say that I've been thinking about it would be an understatement, it's been pretty much all-consuming in my mind for the last three weeks.
"There's no doubt I visualised what happened today and thankfully it came true.
"As the manager said at half-time, it was written in the stars for me.
"In a strange way, I'm glad it's all over so I can actually get some other thoughts into my head now."
Thompson had been desperate to succeed for his family and other St Mirren fans.
The 34-year-old, who hails from Houston in Renfrewshire, said: "It's massive for the supporters. I'm a supporter myself, I know loads and loads of supporters and for them it's a massive, massive day.
"And I'm just so pleased that we were able to deliver it for them because my main worry was we wouldn't do it for all these people.
"The amount of well-wishers I've had to my door, I just thought 'we need to do it, we need to do it for these guys'. And we've done it. And it will make an awful lot of people happy.
"I think there's a relief because I knew what it meant to the supporters, being one myself and being in a local village where there are hundreds of St Mirren fans, thousands maybe.
"I was well aware of what was at stake and I'm just so happy we have been able to deliver for the supporters. It's a wonderful moment for the club."
Thompson celebrated on the Hampden pitch with six-year-old daughter Gracie and four-year-old son Struan.
"They are there when you are not playing well and are there when you are playing well, and it was great to get my wee boy and girl on the pitch at the end," he said.
"My wee boy Struan thinks it's his medal already. He can have it. The medal doesn't matter, it's the history that matters."
Thompson has now emulated the players from the 1987 Scottish Cup-winning team that he idolised as a boy, but he admits that will take time to sink in.
"It's going to take a good few days," the former Scotland international said. "It's all very sudden at the minute and a bit floaty in my head, shall we say.
"But in a couple of days' time I will manage to sit down and realise the enormity of what we have achieved and what it means to everybody.
"To the group of players who have achieved it, there is just an immense sense of pride amongst us."