Dunfermline have been placed into interim administration
Dunfermline Athletic have been placed into interim administration after a court hearing in Edinburgh.
Last Updated: 28/03/13 4:23pm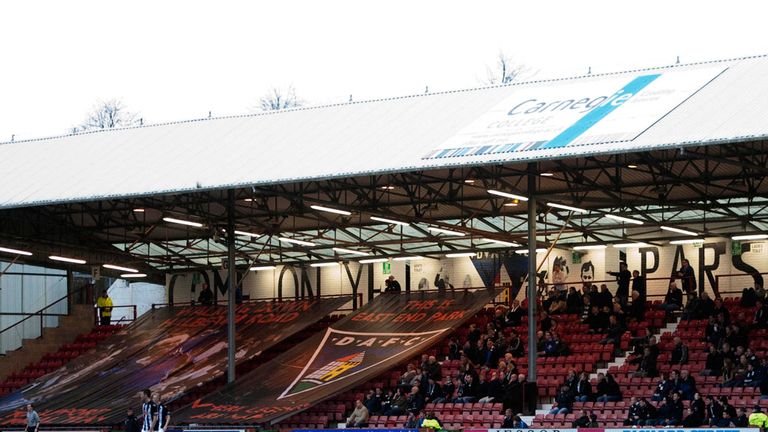 Lord Hodge granted the order at the Court of Session, setting a date of 11 April to decide on whether to grant full administration.
The Division One club, which was founded in 1885, failed to meet a Tuesday deadline to settle a £134,000 debt to Her Majesty's Revenue & Customs.
Bryan Jackson of administrators PKF will take over the day-to-day running of the club and admits job losses are inevitable.
"Clearly there's a considerable task involved in trying to save Dunfermline," he said.
"Unfortunately there will be a number of redundancies announced in the next few days.
"The feeling I have is we will make some quick, and unfortunately, brutal cuts.
"The interim management process will allow the club to operate without immediate fear of closure but I cannot stress the need for the continued support of the fans, players, and staff.
"It is important to realise that this appointment is simply the first step in a process that will take some considerable time.
"I will now be consulting with creditors and potential buyers of the club to try to ensure it has a viable future.
"I believe with the support of the staff, players, supporters and wider community we can resolve the serious financial issues the club faces now and in the coming months."
Gavin Masterton, the club's majority shareholder, has apologised to players, staff and fans for the likely redundancies.
"Despite my concerns regarding events over the past six months the ultimate responsibility stops with myself," he said.
"Over the years the Masterton family have invested several millions of pounds into the club to establish the infrastructure and just under £1m in the current year, but this trend unfortunately was not sustainable.
"I personally apologise to all who will now be upset and damaged by this announcement. Money and jobs will inevitably be lost but everything will be done to ensure a rapid return to normality.
"The understanding and help from all the players, staff, supporters, creditors, advisors, directors and steering group has to have been seen to be believed and reflects the passion and love that so many people have for the club. Thank you all."
Things got even worse for fans on the pitch on Tuesday evening when the Pars fell to a 2-0 home defeat by fierce rivals Falkirk, Lyle Taylor (10) and Blair Alston (88) scoring the goals.