Jan Vennegoor of Hesselink: Celtic boss Neil Lennon is addicted to winning
Not even Rangers' absence from the SPL can weaken Neil Lennon's addiction to winning, says Jan Vennegoor of Hesselink.
Last Updated: 10/04/13 5:37pm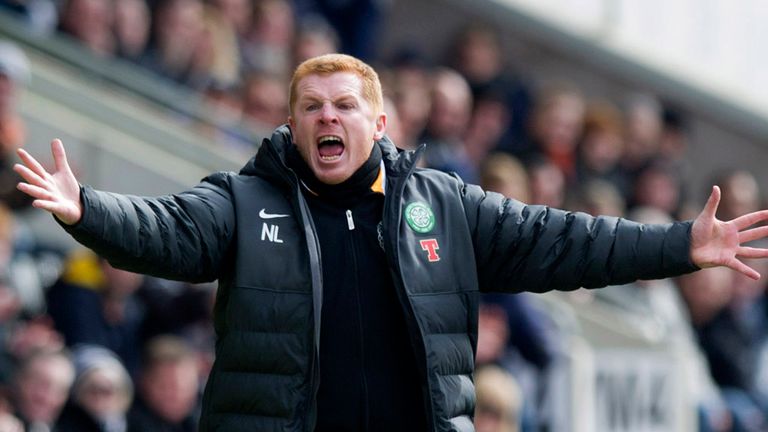 With their Glasgow rivals now in the bottom tier of Scottish football, Celtic have coasted through their SPL campaign and are 15 points clear of second-placed Motherwell with five games remaining.
Lennon's side are likely to clinch the title when they host Inverness on 21 April and Vennegoor of Hesselink says his former team-mate's desire to win, regardless of circumstances, has not diminished.
"If you look how he (Lennon) did in the Champions League and in the league, he is doing his job really well," the former Holland international said.
"Sometimes you have slip-ups but they are 15 points clear so that says enough.
"I know Lenny a little bit and he will want to win the cup and get the double. As a footballer, there is a competitiveness, you want to win.
"It is like an addiction and if you win prizes you want to do it over and over.
"I think that is in the mind of Lenny and hopefully in the minds of a lot of players."
Vennegoor of Hesselink admits the SPL table looks unrecognisable without Rangers and with Inverness and Ross County in the top six, and Hibs, Hearts and Aberdeen in the bottom half.
"It is massive difference from only three or four years ago and also a bit of a shame because you want a good league with a lot of competitiveness," he said.
"I was an analyst on the Celtic versus Inverness game in February and Inverness were pushing for second place. Celtic played their fringe players and Inverness were played off the park.
"That's not to talk badly about Inverness but it is a shame. As a footballer, you want to win it by a mile but sometimes it is also about the competitiveness, that is why fans come to the stadium.
"As a fan you always want to win but sometimes the nicest game is a last-minute winner so it is a shame that is not really there.
"The semi-final is really important because that is where they can get their satisfaction from too, getting the double and getting that on your CV.
"I played football for 18 years and I was quite lucky to win some prizes but only won two doubles in my career."
Vennegoor of Hesselink revealed his indelible Celtic links mean he has been quizzed about the demise of Rangers back in his homeland.
He said: "It is a big issue. People refer to me as a Celtic player, not a PSV or Twente player, so my time here had a big impact.
"They (people in Holland) know that Rangers went down and the Old Firm is a match that you miss.
"Everybody in Europe or maybe even the world talked about the derby and it's not there.
"I think it is painful because as a footballer you want those intensity games but it is not there and that is a shame."