East Fife boss Billy Brown unrepentant but embarrassed by post-match rant
East Fife boss Billy Brown has admitted his embarrassment after a post-match rant went viral - but he is unrepentant.
Last Updated: 18/04/13 12:05pm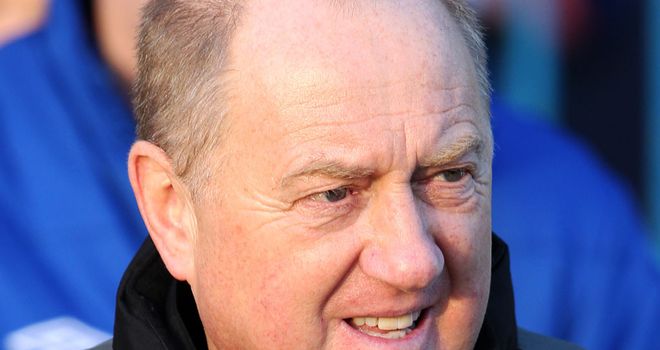 Brown took exception to fans booing during the 2-1 home defeat by Stenhousemuir in Scottish Division Two, a result which brought the reality of a relegation play-off to avoid demotion to the bottom tier ever closer.
Brown spent many years as an assistant manager to Jim Jefferies before taking his first managerial position in Methil in November last year.
"When I watch it back it's a wee bit embarrassing but it's how I felt at the time," he told Jim White in an exclusive interview with Sky Sports News HD.
"It was a wee bit of frustration I felt at the time. It's the way I am. I try my best, you do what you do. I said it and I meant it.
"People pay their money and are entitled to shout and boo but I know if I was paying to watch my team I would want them to win but if I did the reverse then I know what would happen.
"We've got some young lads there and it's hard to keep their heads up and Saturday was the final straw and it was a culmination of a good few games.
"We're struggling because East Fife don't have a very good team this season. But it won't help if everyone is against the team.
"When I took over they were second bottom and they are still second bottom. If that is what they want to do than that is fine. But it's not helping and if they want the situation to get better we need everyone behind us.
"If their is a crowd of 15,000 and 50 are booing the effect is negligible but if the crowd is only 500 and 50 are booing it does have an effect."
Brown admitted he lost his patience as his side were leaving the field at half-time of Saturday's defeat, their eighth loss in 10 games.
"The players were getting some stick," he added. "I was frustrated and did start having a wee conversation with the crowd and I did grab the microphone off the PA anouncer.
"I'm a bit embarrassed about it now and did not want to get involved but these things happen. We have only three games left and to get anything we need every assistance we can get.
"Don't shout at the team shout at me; I have been in the game long enough, I can take it. If I was a supporter paying money to watch my team I would want them to win and booing the team is not going to help them.
"Booing in itself is not a problem. Supporters have vented their opinion over the years and they have every right to do so, but I have noticed in recent years booing has become more prevalent and I can't understand it.
"If that's what people want to do, if that is how they get their enjoyment on a Saturday then carry on, but it's not helping their team in anyway whatsoever."