Ally McCoist is looking to bring freshness to Rangers in his transfer dealings
Ally McCoist is eager to drive Rangers forward when he discusses budgets with Craig Mather next week.
Last Updated: 28/04/13 8:45pm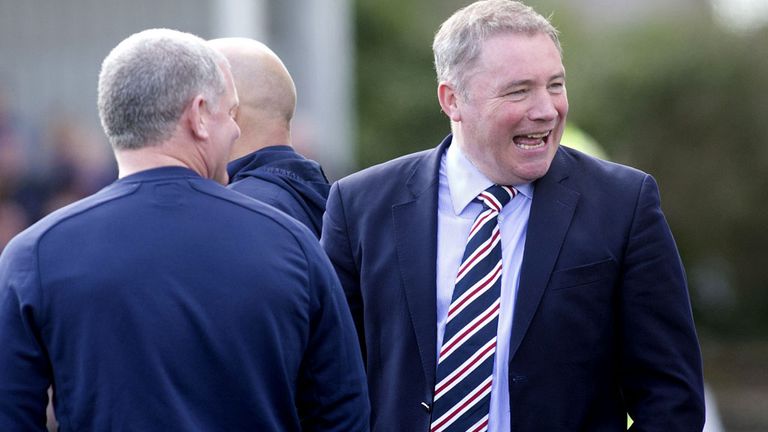 Mather, the club's director of sports development since October, took on the new role following the resignation of Charles Green with immediate effect on Friday.
McCoist is due to meet Mather this week to discuss budgets and he is eager to freshen up his squad, although he knows he will have to work within constraints.
The Rangers manager told Sky Sports News: "Craig's been here for a while now and we had an initial meeting on Thursday which was obviously beneficial but with the game coming up at the weekend that took paramount importance.
"We have pencilled in a meeting for early on in the week, Tuesday or Wednesday, and Craig's of the same opinion as myself that the most important thing is we move the club forward and in doing that we have to bring freshness to the club in terms of players.
"I'll have a better idea in terms of a budget certainly in the next week or so and I'm looking forward to hearing that.
"I was given a budget before which I was obviously delighted with but whether that will change or not, we'll just have to wait and see.
"But definitely in terms of the club and indeed the team moving forward, the team this year have done fantastically well, just thrown together in the space of days and they've managed to win the league comfortably which was the objective.
"And that'll have to be the objective next year as well because we obviously still have the transfer embargo, at this moment in time we're going into SFL Two but I think we are able to sign players who are out of contract at the end of the season and register them on the 1st of September.
"It's not an ideal situation but it's one that hopefully we can use to our benefit."