SPL play-offs remain on the table after Hampden reconstruction talks
Scottish Premier League chief executive Neil Doncaster says play-offs in the top flight remain a "possibility".
Last Updated: 29/04/13 11:27pm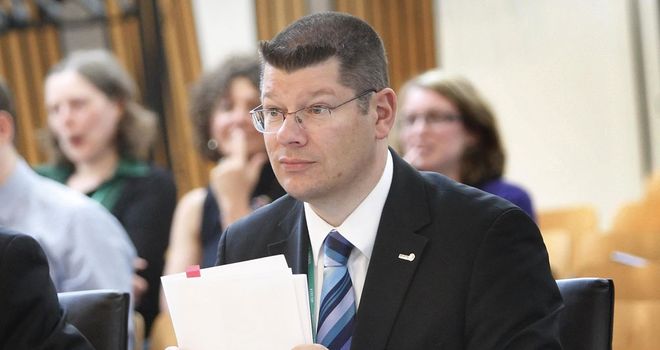 Proposals for a 12-12-18 system, with the top two leagues splitting into 8-8-8, the introduction of play-offs, revised financial distribution and the merging of the SPL and the Scottish Football League were rejected after Ross County and St Mirren voted against them two weeks ago.
However, the SPL clubs met on Monday to discuss four different play-off options and will reconvene next Tuesday to study the proposals in more detail.
After the meeting, which lasted around three hours, Doncaster stressed that the most important factor for the SPL clubs to consider is cost versus benefit.
"It remains a possibility, no more than that," he said. "The clubs have expressed a keenness to get round the table again.
"It may be that nothing can be agreed but the clubs are keen to have that conversation.
"The clubs reluctantly agreed that given the time before now and the end of the season, it is not possible to achieve a full merger in time for the summer so it is looking unlikely that there will be any reconstruction involving a merger.
"But we looked at four different play-off models today. There was no formal proposal, it was a discussion meeting to see if anything could be agreed.
"There is a view generally that play-offs could be a positive thing but it may suit some clubs more than others.
"The devil is always in the detail and whilst we all might like the idea of play-offs you need to know how they will work.
"The clubs need to understand all the facts and figures, exactly what the risk is and what additional money they would get as part of those play-offs. All of those remain work in progress.
"What you are asking clubs to do is to take on the additional risk of being relegated but without all of the financial benefits that would have been accompanied with that risk with the all-through distribution model and the merger.
"What you need to do is cost out what revenues are likely to be generated by one particular model and how you distribute those revenues.
"The clubs are meeting next Tuesday but understanding there will be a note of caution because of the difficulties of taking one element of the proposals. It is complicated."
Dundee United chairman Stephen Thompson rushed away from the meeting and when asked if things had moved any further forward, he replied, "no."