Dundee boss John Brown believes side cheated out of SPL survival after 1-1 draw with Aberdeen
Dundee boss John Brown believes his side were cheated out of SPL survival in the 1-1 draw with Aberdeen.
Last Updated: 05/05/13 6:52pm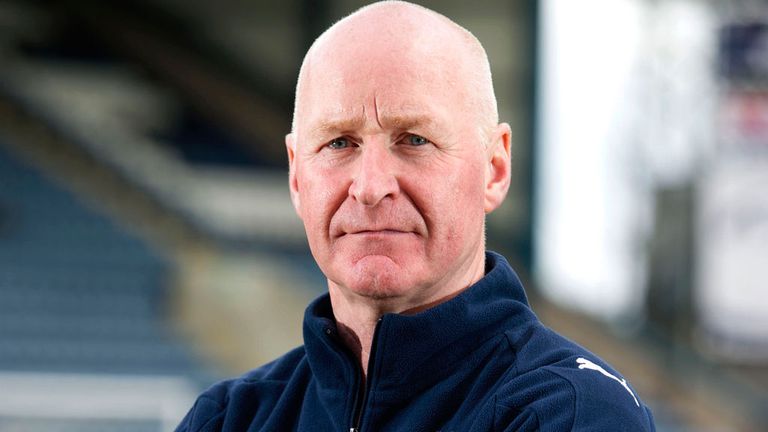 The Dark Blues needed to beat the Dons to keep their slim hopes alive but the result means they will slip out of the top tier after just one season.
Brown's men had looked to be on course for victory after Jim McAlister's deflected first-half strike but it was Peter Pawlett's tumble in the box for Aberdeen's penalty that incensed Brown.
"Lewis Toshney has gone out and stood his ground and the guy (Pawlett) just dives two-footed," he said. "If anything it must have been a booking for him rather than a penalty kick.
"I thought that was a stonewall penalty in the first half. Look at it on the highlights and you will see that one was a penalty and the other wasn't. That has taken us down.
"I haven't really criticised the player (Pawlett) yet but to take a dive, he should be ashamed of himself. But, there you go. How many cheats are there in the game?
"We have a referee that can go to his work on a Monday morning and can sleep well tonight.
"This is our livelihoods. It has been taken out of our hands. It is a shocking decision for the penalty kick. That has taken us down. That decision has taken us down and it's a disgrace.
"It is the worst thing I have ever seen. He can't get it right.
"That is where you think (about) technology. For 30 seconds, whether it's a sending off or other key moments, you could stop the game when players are down faking injury or whatever.
"But they can't bring in that technology and it's a disgrace.
"I can't ask any more from my players. They have been fantastic. Out of nine games they have gone eight undefeated - four wins, four draws and a defeat.
"They deserved another crack at it but that was taken from us today."