Leigh Griffiths says he is ready to sign deal at Hibernian
Leigh Griffiths has revealed he is ready to sign a deal at Hibernian after being named as SPL Player of the Season.
Last Updated: 14/05/13 3:22pm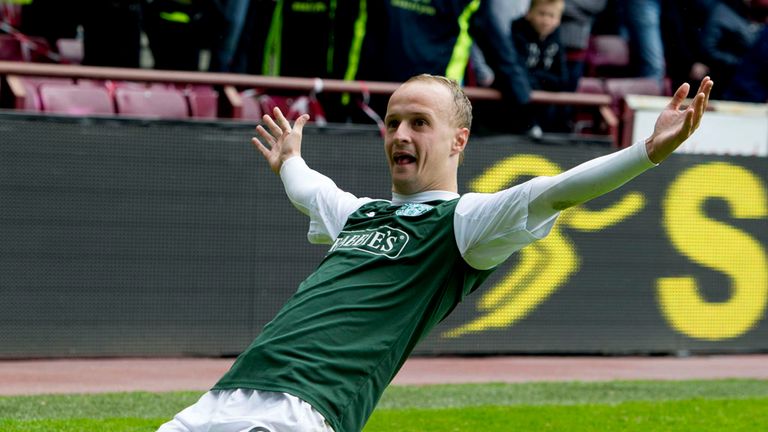 The on-loan Wolves forward scored his 28th goal of the season against Hearts on Sunday, but his future remains uncertain following Dean Saunders's dismissal as Molineux boss.
Wolves have the option of another year on Griffiths, who was due to hold talks with Saunders prior to his sacking.
Griffiths said: "I don't know what's going on with Wolves at the minute and I won't know until there is a new manager.
"I don't know how long that will take but hopefully it is sorted sooner rather than later. If it's done before the cup final, maybe the new man can come up and watch me play.
"Do I want to go back down to England and set a few things straight? You can never say never. If Wolves want to take that option of another year on my contract, then I will go back down there.
"But it's out of my hands. It's down to Wolves and Hibs and whether they can come to an agreement. If they can, then people know it would just be a case of me signing on the dotted line and people know I will do that."
Griffiths adds the Clydesdale Bank prize to PFA Scotland's young player of the year award and Hibs' player of the year trophy, and claimed he has had his best season yet.
"I'm racking the awards up. It's always nice to get them as it's ecognition for a good season."
"It's been the best year of my career. My best goals total beforehand was 21 at Dundee, so to score 28 with three games still to go is great.
"Now I'm desperate to get the two goals that will take me to the 30-goal barrier. I equalled Steve Cowan's record of 27 a couple of weeks ago so now I'm hoping to go a couple better and try to hit the 30 mark."
He added: "My goal yesterday was one of the best strikes I've ever had, never mind just from my time at Hibs.
"I'm always confident going over free-kicks and I just made it sure I got it over the wall. Once it did the ball started gathering more pace and it was like a rocket when it hit the net.
"I had no idea it was my 100th goal until the post-match interview so it's a nice milestone and I couldn't have picked a better place to get it."