Rangers announce price freeze for season ticket holders for 2013/14 campaign
Rangers have announced a price freeze for season ticket holders as a reward for their "unwavering support" for the club.
Last Updated: 14/05/13 5:19pm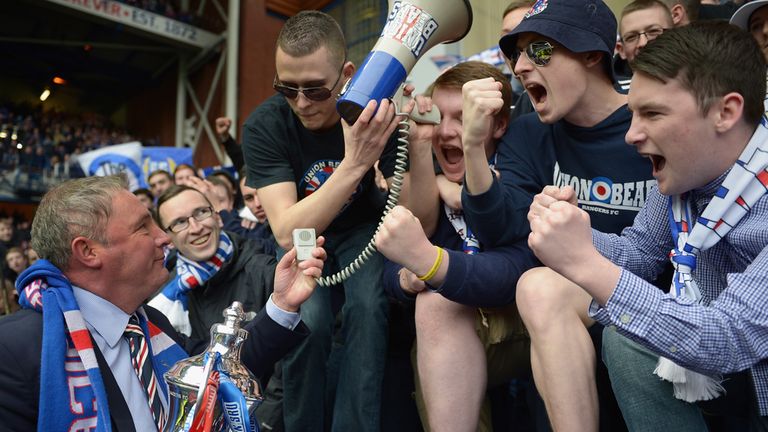 The Gers slashed season tickets by one third last summer after they were consigned to the third division of Scottish football.
Rangers were the fifth most attended club in Britain this season and the board decided to freeze prices in recognition of their fans' 'unquestionable loyalty and support'.
Prices for season tickets, which includes all 18 league games, start from £258 for adults, £65 for children and £179 for concessions.
Rangers interim chief executive Craig Mather said: "The board is delighted to confirm season ticket prices for next season will be frozen.
"More than 38,000 fans bought season tickets in 2012/13 and in recognition of their tremendous support and loyalty we have taken the decision to keep prices for the forthcoming campaign as low as possible.
"We all enjoyed our recent title celebrations at Ibrox and the fact the Berwick Rangers game was a complete sell out was again testament to the loyalty, commitment and passion the supporters continue to show this great club.
"We cannot thank Rangers fans enough. They have followed the team in huge numbers at all games this season and I am sure they will back Ally McCoist and his players again in 2013/14.
"Phase One of the journey back is complete and we are all determined to get this great club back to the top of Scottish football where we belong.
"Supporters are the lifeblood of this 141-year-old institution and on behalf of everyone at Rangers Football Club I would like to thank our fans for their incredible support."