New chief executive Craig Mather assures fans Rangers are 'stable'
Craig Mather insists Rangers are now on a stable footing after he was appointed chief executive on a permanent basis.
Last Updated: 12/07/13 6:43pm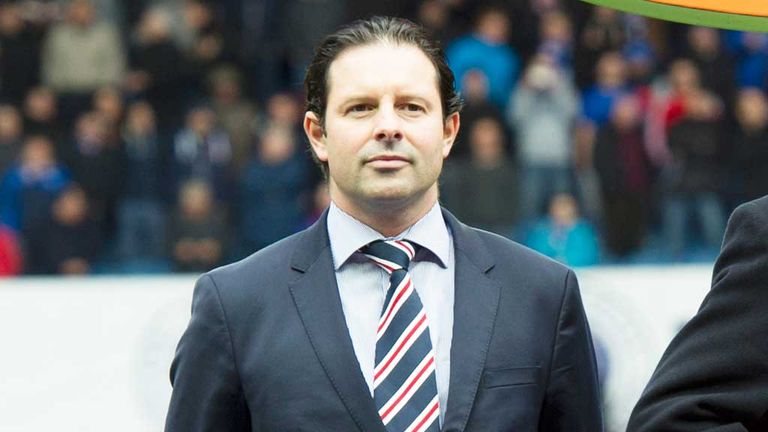 Mather has been steering the club's finances and transfer activity on an interim basis since April, when Charles Green resigned following a controversial stint and amid a club-commissioned investigation into links with former owner Craig Whyte.
The boardroom has since seen more changes following the departure of Green and Imran Ahmad, with Malcolm Murray replaced by Walter Smith as chairman, before leaving the board along with Phil Cartmell this week, as Greenock-based businessman James Easdale moved in.
Murray, whose position had come under threat in May when a number of shareholders launched a formal attempt to oust both him and Cartmell, delivered a parting warning in an open letter to fans.
He expressed concern over a potential lack of transparency and the effect of the departures on the confidence of investors but Mather sought to assure supporters of off-field order at Ibrox.
Mather, who invested £1million in Rangers shortly after Green's consortium bought the assets and business of the liquidation-bound club for £5.5million, told Rangers TV, "There is a lot of talk, of gossip, but the truth of the matter is that there is stability within the club, within the board.
"Walter has been fantastic for me, a great sounding board and I have to take my hat off to him because he went to America on holiday for three weeks and he rang me every day. He wanted to make sure everything was okay and was moving as we had planned.
"It's a job that I wanted and am fortunate enough to now have on a permanent basis and I intend to do something with that, to drive the club forward with stability."
Interim results showed Rangers lost £7million in their first six months of trading as a new company but that was offset by a £22million share issue.
The Third Division champions' summer transfer activity has raised some eyebrows with manager Ally McCoist still looking to sign defenders after bringing in seven players.
But Mather believes he can manage what he called the "balancing act" of providing manager Ally McCoist with a team able to drive Rangers to the top flight while ensuring financial security.
"Rest assured I will be looking after the pennies and the pounds as well as hopefully being able to create a strategic path to get us back to the pinnacle
of Scottish football and eventually Europe," the 42-year-old added.
"The additions were calculated additions, not knee-jerk reactions to anything. I was extremely keen to get the new faces in as early as possible, again for stability and the impetus going into the first game.
"Doing what we've done, I'm hoping we can start off with a bang."