Scottish League Cup: Ally McCoist brands Charles Green an embarrassment
Rangers boss Ally McCoist slammed Charles Green after his side's early exit from the Scottish League Cup at Forfar.
Last Updated: 03/08/13 7:48pm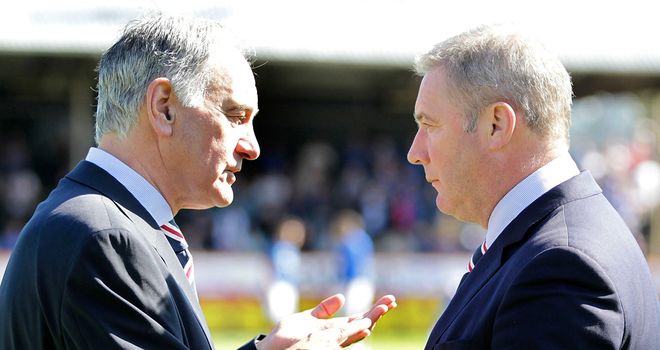 Green is set to return to Ibrox on a consultancy basis and warned McCoist he had to win a trophy on top of the Scottish League One title in an article printed on Saturday morning.
Hours later one of those cup chances was over thanks to a pair of goals from Gavin Swankie at Station Park, after which McCoist was not in a mood to mince words.
Asked what he thought of Green's comments, he said: "I was appalled by them to be quite honest with you.
"The self-acclaimed straight-talking Yorkshireman has again let himself down.
"His contempt and total lack of respect for my players, for our football club, for our support and Scottish football in general is appalling - and he is an embarrassment.
"If it was a threat then the self-acclaimed straight-talking Yorkshireman should know that boys from the West of Scotland don't scare easily.
"If he does come back, I'll certainly go and pick him up at the airport. I won't have a problem doing that. It's just more hot air that we've come to expect from Charles. After I've given him that endorsement it would be crazy of me to say 'welcome back Charles'.
"I've got to be careful because Forfar deserved their win and well done to Dick Campbell and his players, but our players picked up the newspaper at breakfast to be reminded they're the worst team in Rangers' history.
"I'll tell you, that would be bad luck - to have the worst Rangers team in history and the worst chief executive in history at the same time. That's downright bad luck.
"Instead of concentrating on the match, their minds are elsewhere and they're worrying about their jobs. Because, let's face it, if he's said we don't win a cup and we go, then some of the players would be under threat too.
"As team-talks go, I don't think it was one of Charles' best. What I can say is that the current chief executive has backed us with players coming in, absolutely.
"Craig Mather has been shoulder-to-shoulder with us, which is something Charles seems to have taken umbrage to.
"Let's be honest about it, I don't think it's surprising that we're probably at our most vulnerable and weakest because we can't play our new signings [due to a transfer embargo].
"That's when Charles has surfaced and the biggest thing of the lot is that he's turned up after 34,000 fans have bought season tickets. Coincidence? Perhaps not."