Scottish Championship: Mickael Antoine-Curier delighted to be back with a bang
Mickael Antoine-Curier expressed his delight at being back at Hamilton after scoring their winner against Kilmarnock.
By James Pearson
Last Updated: 30/08/13 9:57am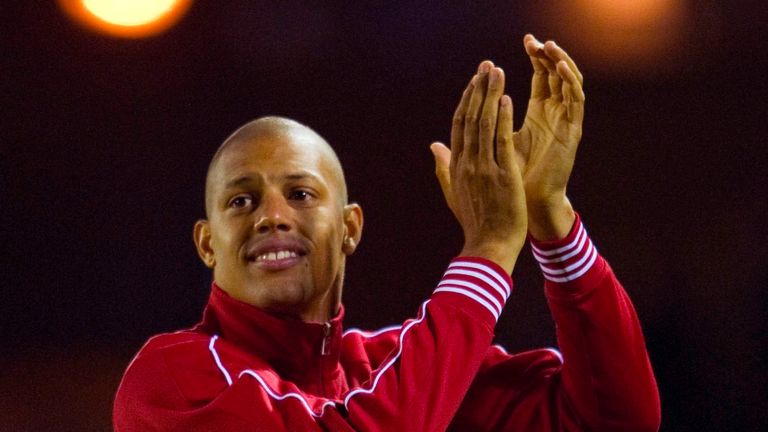 The French striker only signed a one-year deal with the Championship club last week and marked his third debut with a crucial header at Rugby Park.
Antoine-Curier had been playing for FC Atyrau in Kazakhstan and he was quick to return to New Douglas Park when his former captain Alex Neil made the call.
The 30-year-old feels at home at Hamilton and is not ruling out extending his stay come the end of the season if the club's hierarchy come knocking.
"It feels great (to be back)," he told Skysports.com. "I know the club very well. I've scored on every debut for Hamilton, so I needed to keep that up. I'm just trying to do my best. It was a great ball in from Ali (Crawford) from the corner.
Ambition
"My job is to score goals and to do well. Our ambition this season as a team is to get promoted this season and there is a long way to go. It's not going to be easy, but we have a lot of talented players in the team. We all work for each other. I won't deny that everyone's confidence is up.
"I really wanted to come back to British football. It was good to speak to Alex Neil when he first called me about training with the team. He was my captain before. He knows about me and what I can deliver. He trusted me enough to start me and to put the work in to bring out the best of my ability.
"Although I'm feeling great, I'm not 100 per cent yet. I'm not as sharp as I can be. I've only been training a week-and-a-half with Hamilton.
"If they want me to stay longer, I'd certainly consider. We have always had good understanding and the club has always shown faith in me. What's most important is to work hard for the team.
"If another opportunity comes up as a result, it would be the icing on the cake because I'd like to continue playing at a high level in British football."