Scottish football: Craig Mathers resigns as chief executive of Rangers
Rangers have announced that chief executive Craig Mather is to resign with immediate effect.
Last Updated: 16/10/13 10:04am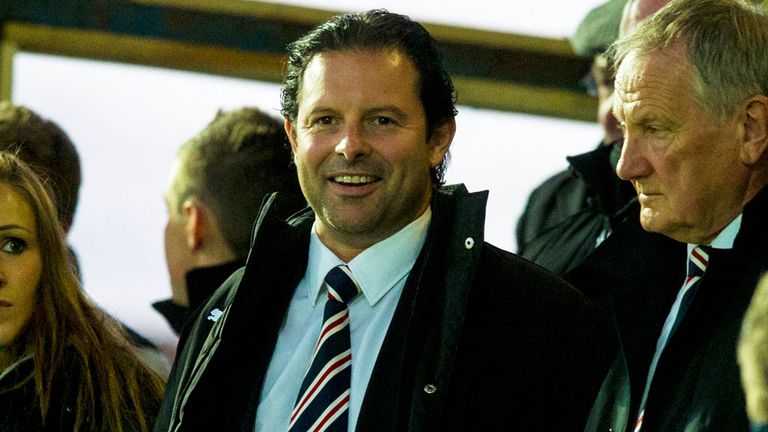 A statement on the club's website said that Mather "has agreed to stand down in an attempt to help calm speculation over the governance and executive management of Rangers".
The announcement came just two days after former oldco director Paul Murray won a victory in court which forced the postponement of next week's scheduled annual general meeting.
Murray took action after the Rangers board blocked his motion for an election to determine whether himself and his allies could join the board.
And Mather said: "The interests of the club are of paramount importance and I believe these are best served by me leaving the club.
"No individual is more important than Rangers and my departure will hopefully alleviate some of the pressure surrounding the club and herald an end to the current hysteria, which I believe most fans desperately want to see.
"I leave with my head held high and will remain as a shareholder and a supporter of Ally (McCoist, manager) and his team."
Mather proud of his service
Mather added that he feels he is leaving Rangers on a solid financial footing, notwithstanding the continuing boardroom battles.
"Despite recent events and speculation, the facts of the matter are that the club is financially secure and in a far better place than it was a year ago," he said.
"Unlike most football clubs, Rangers has money in the bank, no borrowings, and, this season, we have assembled a squad which is capable of progressing through the leagues.
"My short tenure as chief executive has been beset by incessant attempts to destabilise the operations of the club, all done supposedly in the interests of Rangers.
"I had real faith in the rebuilding of Rangers and invested significantly in the club. Sadly, those who have been most active in upsetting the very good progress we have been making were not willing to do the same.
"There are a great many good and thoroughly decent people working with Rangers and I am proud to say that I was able to stand alongside them for a time.
"I consider it to have been my privilege and I am certain that once the board is settled Rangers will be restored to the top of Scottish football.
"I would also like to pay tribute to the outstanding commitment and loyalty of Rangers supporters."
Mather replaced Charles Green on an interim basis in April before taking the job permanently.
Rangers have also confirmed to the London Stock Exchange that non-executive director Bryan Smart will also be departing.
The club statement read: "The directors would like to thank Craig and Bryan for their contributions.
"As a matter of priority, the company, working with its advisers, will now seek to strengthen the board."