Scottish League One: Ally McCoist puts focus on Rangers after 4-3 win at Brechin
Ally McCoist was satisfied to see Rangers end another turbulent week off the park as they won 4-3 at Brechin.
Last Updated: 19/10/13 10:45pm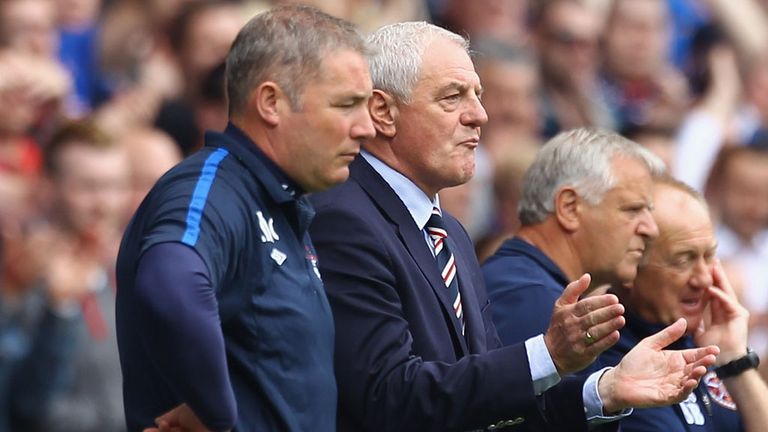 The action at Glebe Park was almost as dramatic as the bitter boardroom battle that has gripped the club in recent months, as the Gers fought back from behind to claim a narrow victory.
This week witnessed another twist in the power struggle at Rangers, as chief executive Craig Mather resigned just days after former director Paul Murray won a court ruling to postpone the club's AGM after the Ibrox board's bid to block a motion for the election of new directors.
But, asked for his thoughts on Mather's exit, McCoist said: "You know something, I'm not going to comment at all on that.
"I'm here to talk about football today.
"On a day like today, I think the one thing we've got to talk about is football.
"There is enough getting said about that and, as manager of a team that's just had a pretty eventful 90 minutes, I would hope you would do me the courtesy of just talking about football today."
He added: "We just get on with it.
"Our job is to put a team on the park that will hopefully continue to do the fans and the club proud. We did that today.
"The fans will have their own views, like we all have, on some of the football that was played and some of the incidents that went on.
"The one thing they'll be going home with is being delighted with the three points.
"I have to say, their support again was fantastic.
"It's been a busy week and a hectic week but our job is to concentrate on putting a team on the park and we did that and got three points."
Rangers were trailing to goals from Graham Hay and Jonny Brown after just eight minutes, before Jon Daly pulled a goal back.
Alan Trouten restored the two-goal advantage but the lead was cancelled out by goals from Bilel Mohsni and Nicky Law, before Nicky Clark netted a late winner.
The win allowed Gers to maintain their 100 per cent Scottish League One record.
McCoist said: "The way we defended in the first half was totally unrecognisable to the side that has been doing so well.
"But I thought the players showed incredible spirit to come back and the winning goal in particular was a class act.
"The positives were three points and that we scored another four goals and the second half performance.
"As you can imagine, there are negatives.
"We defended really poorly in the first half but the positives outweighed the negatives."
Trouten was dismissed at the end on a day when Craig Charleston brandished 11 yellows and one red.
McCoist admitted: "I'm a bit embarrassed, but I never saw that sending-off.
"I'm certainly not going to start criticising the officials.
"I'm not sure it was a game worthy of 11 bookings and a sending-off, to be quite honest with you.
"But it's one that will last in our memories for a long enough time because it was entertaining and exciting and provided a few talking points."
Brechin boss Ray McKinnon said: "I thought we deserved something out of the game. The guys were excellent today.
"Rangers were on a great run and we know what they are all about. They've got quality throughout their side but I thought we did great.
"We are disappointed, but we take huge positives out of the game."