Sandy Jardine insists Rangers fans will guarantee stability at the troubled club
Rangers legend Sandy Jardine believes stability is beginning to return to the club after years of boardroom upheaval.
Last Updated: 13/11/13 4:05pm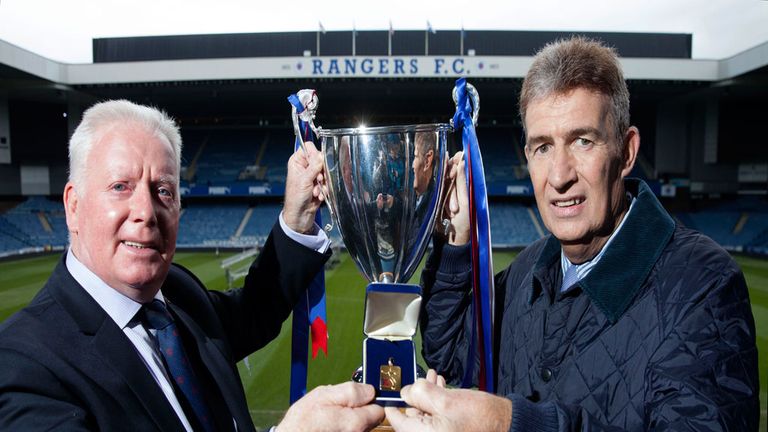 And Jardine, who made 451 appearances for the League One side between 1965-1982, believes the backing of the Ibrox faithful is key to their revival.
Speaking on Sky Sports News, he said: "There is no might about it, stability will return. The supporters have been nothing but magnificent and they will continue to be that because it is their club.
"I don't know if it will be three months or six months but the club will settle down.
"The strength of our club is not who owns it or the custodian, it is the supporters and you would have seen after the last two years it has been fantastic. There is no worries about our club."
Jardine was speaking after presenting former team-mate Alex MacDonald with a replica European Cup Winners' Cup medal after his original was stolen during a mugging in Benidorm this summer.
The 65-year-old, who was capped once by Scotland, scored 94 goals in 503 appearances for Rangers and played a key role in the 1972 triumph over Dynamo Moscow in Barcelona.
'Doddie' had worn his medal round his neck for over 40 years and the club were quick to request a replica from UEFA on hearing of his misfortune.
The Kirkintilloch Rangers Supporters Club, Alex's local club, generously agreed to pay £900 for the new medal and Jardine was thrilled to make the presentation at Ibrox.
"I was really upset when I heard Alex's medal had been stolen as I know how much it meant to him," said Jardine.
"Winning the Cup Winners' Cup was a fantastic achievement for Rangers and every member of that squad earned their medals.
"It was a pleasure to present Alex with his new medal at Ibrox today and I have no doubt he will wear it with pride once again."
An emotional MacDonald said: "It meant so much to me to win the 1972 Cup Winners' Cup. It was a special moment in the club's history and I wore my medal with pride for 40 years.
"I would like to thank Sandy and Rangers Football Club for contacting UEFA to request a new medal and the Kirkintilloch Rangers Supporters Club who immediately offered to pay for it.
"I can't thank them enough for their generosity and it means the world to me to get this new medal. Winning the Cup Winners' Cup is something I will never forget and now I have another special memento to remind me of what a great achievement it was."