CEO Peter Lawwell admits Celtic keen to be part of European league
Peter Lawwell believes Celtic have an obligation to explore the possibility of being part of any European League.
Last Updated: 15/11/13 3:48pm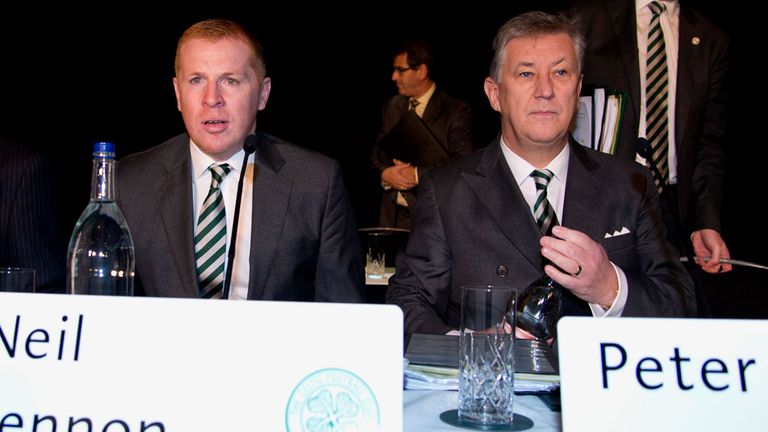 The Scottish champions have long held ambitions to source alternative playing environments and Lawwell is keen to be involved if the project becomes reality.
Speaking at the club's annual general meeting, he said: "I think we have a duty to explore other avenues, not just for Celtic but for Scottish football.
"The way the world has gone in terms of media values, which are driving the success of major leagues around the world, in a country of five million people it is very difficult to bridge that gap.
"So I think we all have a responsibility to continually look at the playing environment in Europe and make sure that if there is change, and I think there will be change in the coming years, that Celtic and Scottish football play a part in that."
The SPFL have recently signed a £20million, 10-year, deal with a Chinese online TV station and Lawwell hopes that is the first of many ventures into the international markets.
"We're looking at possibly partnerships around academies, we're looking at partnerships around player development and possibly social projects over there China so, in the longer term, the Celtic brand gets profile and exposure, not only in China but other markets."
Chairman Ian Bankier said: "I would love to see this club become one of the main players on the world stage of modern football.
"I think there is tremendous romance and expectation about Celtic Football Club. We put smiles on people's faces everywhere and in every continent of the world.
"We have a tremendous attitude to life, I think we have humour, I think we have a sense of social responsibility, I think we have great people in here, I think we have the best fans in the world bar none and I think the combination of that is unstoppable.
"I think the momentum that we have built over the last three to five years is powerful. I think if we get lady luck on our side and we meet with more success on the field, because it is all about football success.
"If we can do that and continue the way we are going we will be nothing short of unstoppable."