Danny Lennon defends St Mirren captain Jim Goodwin
Danny Lennon has defended St Mirren captain Jim Goodwin after he was criticised by Ross County boss Derek Adams.
Last Updated: 17/11/13 8:00pm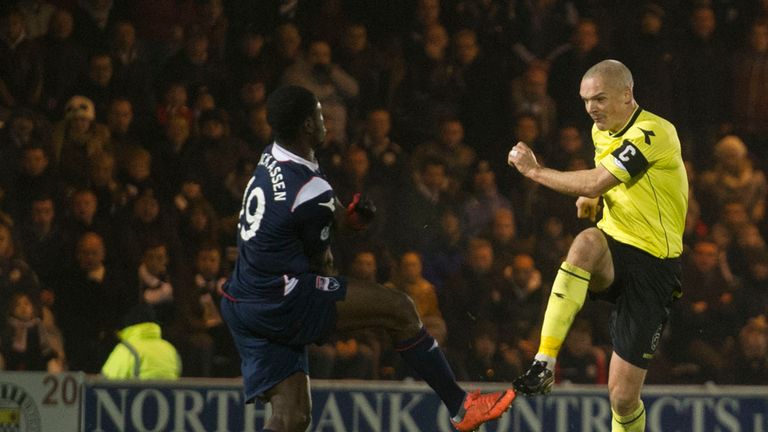 Adams described Goodwin as a "ghost", claiming the 31-year-old was fortunate not to concede a late penalty and should have been punished for kicking "lumps" out of his players during a match that saw County beaten 2-1 after having two men sent off.
"Derek will have his own opinions but I think any manager should concentrate on their own side, nothing more," said Lennon. "Jim is a competitive player and that is his make-up.
"I have not seen it (penalty claim) yet but I am led to believe that it is a hand ball. If it is our turn to get that bit of luck then it is certainly overdue.
"It is part and parcel of the game, you get ones that go for you, ones that don't and that is the wee bit of luck that we had.
"You can talk about that but I think overall, with the amount of strikes we had on goal, between 18 and 20, the disappointing thing was we didn't have any more goals for our efforts."
Goals from Steven Thompson and Conor Newton either side of half-time had given St Mirren a 2-0 lead before Steven Saunders pulled one back for County.
The away side's hopes of getting a point were damaged when Ivan Sproule and then Saunders were both sent off during a five-minute spell.
However, they left the field angered that what they felt was a handball by Goodwin in the final minute went unpunished.
Adams had "no complaints" about either of the red cards but offered a damning verdict of Goodwin after the game.
"Jim Goodwin wasn't playing today, was he? He had seven or eight fouls and didn't have a booking," said Adams. "He handled the ball last week (against Partick Thistle) and he handled the ball this week.
"I don't think he actually plays football any more. The referees don't actually see Jim Goodwin and that must be a great thing.
"How he got away without being booked is terrible because we had two players sent off.
"We had a player sent off for two bookings and Jim Goodwin walks about the park and kicks lumps out of people and nothing happens and sometimes people have to look at that.
"I don't want to get players booked but he deserved to get booked.
"There is no point in talking to the officials. Willie Collum is one of the best officials in the game but he sadly got it wrong.
"Jim Goodwin went through Melvin De Leeuw a few times in the first (original) game and nothing happened and today, he is allowed to go...I think he is a ghost actually."