Ally McCoist plays down Twitter attack after Rangers' 2-0 win
Ally McCoist laughed off a foul-mouthed rant by Stenhousemuir midfielder John Gemmell after Rangers' 2-0 win.
Last Updated: 05/01/14 10:24pm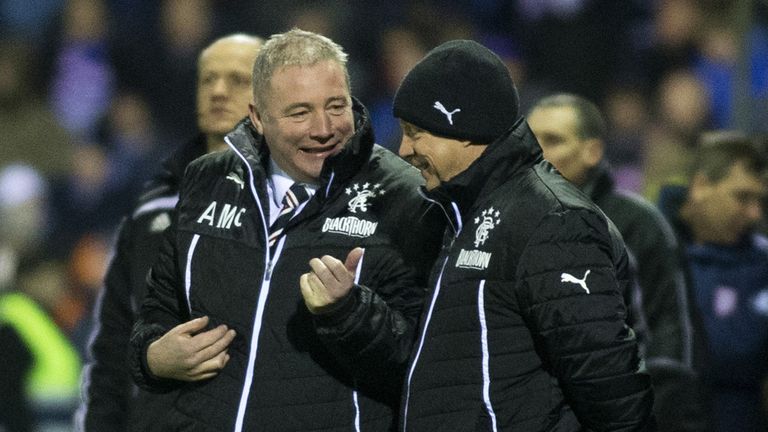 Gemmell lashed out at McCoist on social media in the build-up to the Scottish League One match, but Nicky Law's double ensured the Light Blues would have the final word, despite Arnold Peralta's first-half dismissal.
McCoist had angered Gemmell by complaining about his side's hectic schedule, but the Warriors player tried to explain his comments after they appeared in the Sunday newspapers.
When asked about the rant, McCoist said: "I get called worse in the house to be honest with you.
"I reckon about 60 per cent of our dressing room agreed with him - that was the concerning thing!
"It was probably a bit ill-judged but I'm certainly not going to throw the toys out of the pram. In my time at Rangers, I have been called worse.
"He said to me 'You know what I meant, didn't you?' To which I replied 'Not really!'
"But it doesn't matter. We are all big boys and we just get on with it.
"I think he did miss the point - my main gripe was the fans being asked to travel about to three or four games at this time of year.
"He maybe read the situation wrong. I wasn't complaining about the amount of games, I was just trying to fight the fans' corner."
McCoist did not dispute the dismissal of Peralta, who saw red for a reckless high challenge on Eddie Malone.
"My first reaction was that it was a booking but I've got to be honest, I'll look forward to seeing it again and it probably was a red," he said.
"He was very high and I was maybe being more hopeful that anything else by wanting a yellow card.
"The referee was pretty well placed to see it and I don't have any complaints to be honest."
Law was singled out for praise by McCoist after he opened the scoring in the first-half and then sealed the points with a fine late strike.
"It wasn't easy on the eye but after going down to 10 men we just wanted to see the game out and get the three points and we did that fine," he said.
"They were great finishes from Nicky. There was lovely movement off big Jon Daly for the first one and the second one looked like a brilliant strike.
"I look forward to seeing that one again."
Asked about the Twitter incident, Stenhousemuir boss Martyn Corrigan said: "That happened last night and is something the club will deal with next week.
"We can only comment on stuff I do and say. Whatever happens off [the pitch], we will deal with internally.
"It certainly didn't distract us or our game-plan. You need to be very careful with social media. I don't think it overshadowed the game."