SPFL: Ally McCoist backs Rangers players after they rejected offer of pay cut
Rangers manager Ally McCoist has backed his players after they rejected a 15 per cent pay cut.
Last Updated: 17/01/14 4:06pm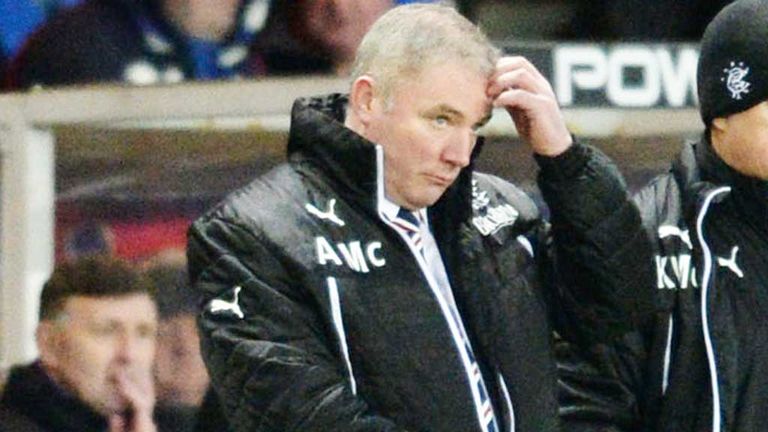 Ibrox chief executive Graham Wallace put forward the idea of the playing staff taking a 15 per cent pay cut on Thursday as he seeks to stem the flow of cash from the League One side.
Rangers, who posted losses of £14.4m for the 13 months to July last year, are reported to have a playing wage bill of between £6m and £7m a season while going through up to £1m in running costs each month.
After the AGM last year, Wallace said those outgoings were 'too high even for a top-flight club, never mind a League One side', and proposed a number of measures to get the spending into line with the club's standing.
Last week, McCoist saw his reported £825,000 annual salary halved after agreeing to a pay cut, but following a meeting on Thursday, which included club captain Lee McCulloch, the players refused to follow his example.
However, the Ibrox chief threw his full weight behind his squad saying: "I can assure everyone that the players have my 100 per cent backing.
"It's my job as manager to back them. If I want them to back me 100 per cent then I back them 100 per cent, and I do.
"I was not privy to any meeting, I wasn't at any meeting, I wasn't in any meeting so in that respect I can't comment on the meeting, what was said in the meeting and what came out of the meeting.
"But I can absolutely reassure everyone that the players have 100 per cent my backing and indeed the entire staff's backing.
"I didn't say I supported it and I didn't saying I didn't support it. I don't think that particular incident is my business, to be honest. That is a cost-cutting exercise that is up for debate."
Asked if it was necessary for him to add so many players to his squad last summer, considering the opposition which lay ahead, McCoist said: "I have no regrets."
Deals for goalkeepers Cammy Bell and Steve Simonsen, defenders Steven Smith, Ricky Foster and Bilel Mohsni, midfielders Nicky Law and Arnold Peralta, and strike duo Jon Daly and Nicky Clark were sanctioned before the start of the campaign.
"The fact of the matter is that I was given an option to bring players into the club, which I was more than willing to do, at the same time as bringing the budget down again," he said.
And McCoist rubbished suggestions that he had been asked to trim his playing staff during this transfer window as part of the cost-cutting measures.
"Graham Wallace has not indicated to me that players will need to be sold," he said.
"He has gone on record and I totally understand the severity of the situation but there is absolutely no specifics being said in terms of how those cuts will be made."