Managers clash over Shaun Hutchinson tackle in Aberdeen-Motherwell draw
Derek McInnes and Stuart McCall could not agree about Shaun Hutchinson's tackle in Aberdeen's draw with Motherwell.
Last Updated: 25/01/14 10:31pm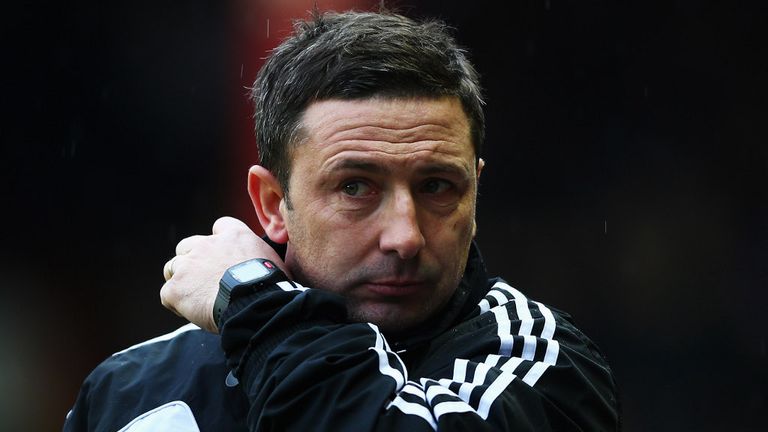 Hutchinson was shown a yellow card for his challenge in a feisty match that saw Russell Anderson bundle home from close range in added time to rescue a point for the visitors.
McInnes, however, said Hutchinson should have been off the park long before that.
He said: "Ryan is back from the hospital, he has had an X-ray and he is in a lot of pain but we will need to see the outcome of that.
"Regardless of how long he is out, I thought it was a very poor challenge.
"I know there is a touch on the ball from Hutchinson but for me, there is only someone going to get hurt in that challenge. It is reckless at the very least.
"In real time I did wince, I thought it was a straight red and having seen it again, I think you would lean towards a red more than a yellow. But all in all, it was a decent point and a decent game."
"I totally disagree," said McCall
"It was a robust tackle but Shaun 100 per cent wins the ball, there is no doubt. It is a yellow card in my eyes.
"Now, if he then goes in and collides with his ankle or knee, fair enough, but it is a collision and Ryan has landed awkwardly and hopefully he will not be out too long."
McCall also claimed that Anderson's equaliser should not have stood because he appeared to handle the ball.
"It is a blatant hand ball," he said. Aberdeen merited a point, no doubt about that. It is hard enough to take when it (equaliser) is in the 93rd/94th minute but when you see it again, Russell scored with his arm.
"It would have been nice if the referee had seen it but he didn't and we paid the price for that."