SPFL issues official apology to Celtic manager Neil Lennon
Neil Lennon has received an official apology from the SPFL after claims he was pelted by coins and spat at on Saturday.
Last Updated: 02/02/14 7:17pm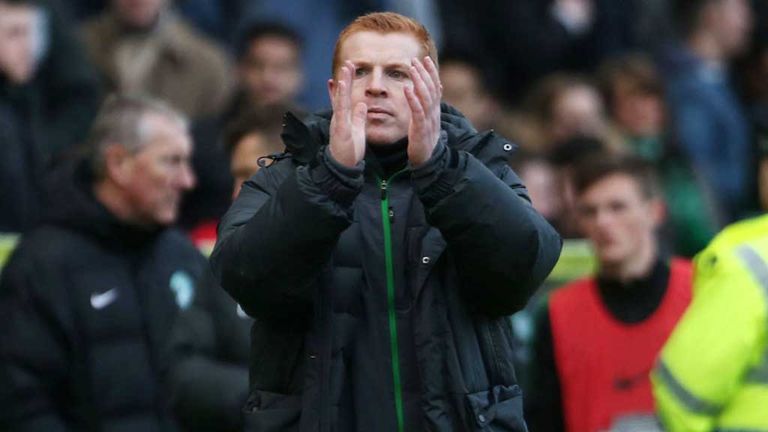 Lennon was watching the game between Aberdeen and St Johnstone at Tynecastle but was forced to leave after 62 minutes.
The Hoops boss was sitting in the main stand, yards above the technical area where he was attacked by a Hearts fan during a game in 2011. The stand was housing Aberdeen fans at the time.
Neil Doncaster, chief executive of the SPFL, said: "We'd like to congratulate Aberdeen and Inverness Caledonian Thistle on reaching the Scottish League Cup Final after two thrilling semi-finals this weekend.
"Unfortunately, we understand that the Celtic manager Neil Lennon was the subject of abusive treatment by a minority of fans during yesterday's game.
"Given this occurred at one of our games, we'd like to apologise to Neil Lennon for this utterly unacceptable behaviour.
"The SPFL is united in its total condemnation of this type of incident, which has no place in a football stadium nor society overall."
As a result of the incident, Lennon may abort his scouting missions at other grounds.
Lennon, whose team host Aberdeen in the Scottish Cup fifth round on Saturday, said: "It was very disappointing, uncomfortable if you want to use the word.
"It was a great atmosphere and I don't want to take anything away from Aberdeen's day, it was a great day for them.
"I think it was drink-fuelled. About 30 minutes into the game a coin whistled past my head and actually hit a gentleman in front of me on his back and he's an Aberdeen fan. I think he was either a member of the board or maybe with the staff because he was sitting in the directors' box.
"At half-time we were thinking about leaving, but they said 'look, we've got you seats closer to the press box'. So again, you don't mind the abuse, you can take that because you get that up and down the country.
"Then, when the third goal went in, a drink, I don't know what it was or what it was in, flew over our heads and landed in the press box. It hit two journalists and splashed all over their computers.
"We decided then, we weren't forced to leave, it was said it was best to leave for our own safety, and the safety of people sitting around us as well."
Lennon, who did not feel the abuse was sectarian, had thought he would be safe.
He added: "I thought at a neutral game, a semi-final where I'm only doing my job because we're playing Aberdeen next week... I've been at all the grounds, I was at Motherwell the week before watching Aberdeen and I've been all up and down the country, and I've never had to put up with that before.
"It makes me think twice about going to games if that's the type of thing that's going to happen. It could have been worse, somebody could have been hurt. I'm not over-exaggerating it, someone could have been hit in the eye with a coin. It's just not on.
"Eventually you've got to say 'right' and maybe need to look at something else in your life if you can't go to a game and enjoy it when you're out working."