SPFL: Hearts close to exiting administration after BDO broker share deal
Hearts are close to exiting administration after their main shareholder agrees to transfer its stake to fan-run group.
Last Updated: 03/02/14 3:06pm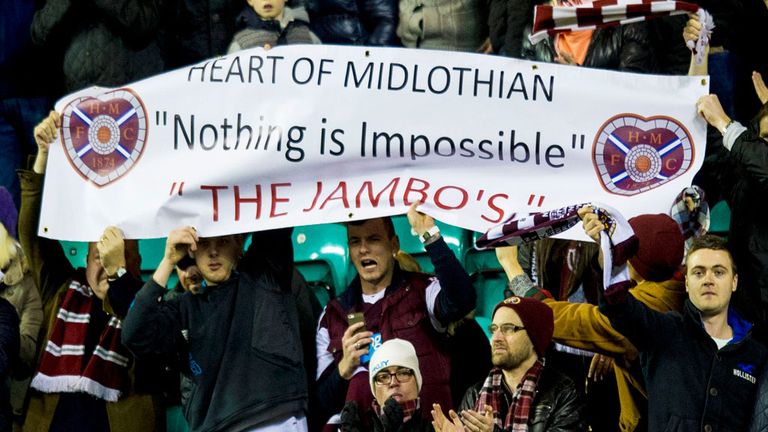 The supporter-run group has revealed Lithuanian company UBIG has made it known it intends to hand over its 78.97 per cent shareholding for an undisclosed sum.
The deal, secured by Hearts administrators BDO, will allow a sale and purchase agreement to progress and the Scottish Premiership club could be out of administration and under fan ownership before the end of the season.
BIDCO, the company set up by Hearts fans, could take over the club 'as early as the next eight to 10 weeks', once the proposal is ratified by the Lithuanian courts.
Bryan Jackson, joint administrator of Hearts and a business restructuring partner with BDO, said: "This is welcome news for the club as it means that the transfer of ownership can go ahead.
"While there remain some technical issues to resolve the process is now gaining some momentum. I would again like to thank the fans, the staff and the players for their continued patience during this time.
"For all those involved with hearts, on and off the pitch and on the terraces, it has been a very difficult period and their assistance and support has been greatly appreciated."
Ian Murray MP, chairman of the Foundation of Hearts, said in a statement: "This is very welcome news from BDO. We are edging closer to getting the club out of administration and we are now talking when rather than if.
"This is a very significant hurdle overcome and we are delighted but more work is required. Let me continue to stress that we encourage every supporter who has not yet done so, and is able, to set up their monthly contribution."
Hearts, who lost out to nine-man Inverness in the Scottish League Cup semi-final on Sunday, began this season with a 15-point deduction after entering administration last June with debts of around £25m.
They have since wiped out the points deficit but look long odds-on to begin their first season under fan ownership in the Scottish Championship as they currently lie 17 points adrift of second-bottom Partick Thistle.