Rangers fans are exploring the possibility of launching a bid to buy a stake in the club
A number of Rangers fans will meet later this month to discuss launching a bid to buy a stake in the club.
Last Updated: 05/02/14 5:27pm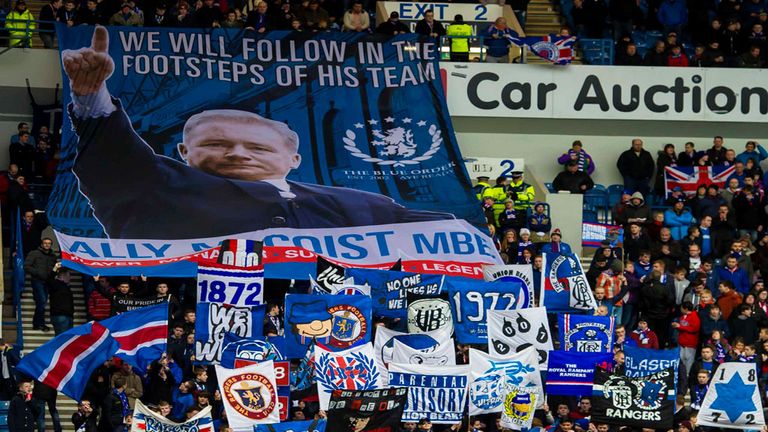 Supporters Direct Scotland (SDS) has been drafted in to offer advice on setting up the project, similar to the one which is close to rescuing Hearts from administration.
The scheme in use at Hearts involves collecting monthly contributions from supporters and it is thought a similar scheme could be used by Rangers, who, like Hearts, were placed into administration in February 2012 before being consigned to liquidation later that year.
A spokesman for SDS said: "Following approaches and discussions with a variety of Rangers supporters, Supporters Direct Scotland has agreed to host an information meeting later this month to discuss different models of supporter and community ownership and to help explore how the fan ownership model could work for their club.
"We have invited representatives of supporters groups we have contact with, and others we are aware may be interested in hearing about fan ownership, to attend."
Head of SDS Paul Goodwin claimed last week that a scheme involving around 25,000 supporters handing over around £20 a month could eventually hand the Rangers support control.
If the fan bid was successful in gaining that level of support, it would build up a sum of around £4.8m within 12 months, allowing them to potentially buy a 25 per cent stake in the club who are clear at the top of the League One table and have already booked their place in the Ramsdens Cup final.
The offer of help to the fans comes just days after the Foundation of Hearts announced it had struck a deal with majority shareholder UBIG to take control of their 78.97 per cent stake in the Jambos. The bid is backed by more than 7,500 fans each making a monthly donation.
Rangers fans have decided to explore the option citing unhappiness at the way the club, which announced a £14.4m loss for the 13 months to June last year, has been run over the past 18 months.
Following the AGM last December, chief executive Graham Wallace warned the club, which reportedly has running costs of around £700,000 a month, could run out of money by the end of April.